Otherworld Challenger by Jane Godman: In order to keep King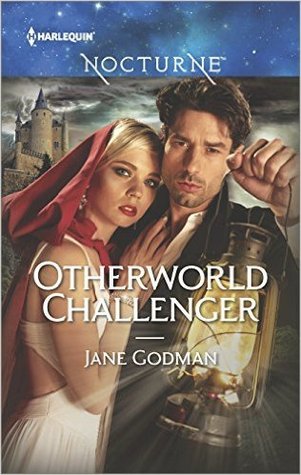 Moncoya, an evil ruler, from being voted by the faeries to remain king, the alliance needs to find the true heir to the thrown, only known as the challenger. Necromancer Jethro de Loix is hired to find him, but only with the stipulation that Princess Vashti, Moncoya's daughter, goes with him.
Jethro assumes Vashti is like her father, only as they travel across both the mortal world and the otherworld, he comes to realize this isn't the case. For the first time in his life, he finds himself wanting to confide in someone.
Having been raised by King Moncoya, Vashti is confused by the feelings she develops for Jethro. After all, her father had raised her and her twin sister, Tanzi, to basically be emotionless. Jethro has his own issues, believing he couldn't love anyone. He has a nagging sensation that there's a reason for it, but no matter how hard he tries he can't remember.
I enjoyed this story. Their journey to find the challenger was full of challenges and people, mainly Moncoya, sorceress Morgan le Fay, as well as her grandson, attempting to stop them from discovering the truth.
The characters are well written and there's plenty of action, as well as an interesting twist on the King Arthur tale. This book would be for readers who enjoy paranormal stories.
Book Info:

 Published: September 1, 2016 | Harlequin Nocturne | Otherworld #3
The race is on to find the true heir to the faerie crown before the evil king Moncoya returns from exile. Mercenary necromancer Jethro de Loix will find the challenger to Moncoya's crown…for a price. One million mortal dollars. Outraged at Jethro's audacity, Princess Vashti, Moncoya's daughter, arranges to accompany him on his mission.
Jethro doesn't want company, especially not from Moncoya's belligerent, pampered daughter. But as their journey pits them against evil forces, their animosity soon gives way to an overwhelming physical attraction. When the trail ends on the legendary Isle of Avalon, can the pair face down the evil sorceress Morgan le Fay to claim a future they'd long denied themselves?