The Rebel's Return by Victoria James: Rebel's Return is a very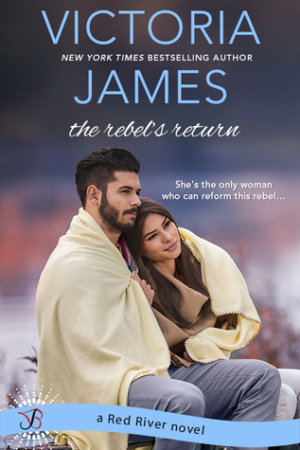 touching story about second chances and forgiveness. Rebel's return tells the story of Natalia and Aiden, who were high school sweethearts from "opposite sides of the track". Natalia felt he betrayed her, so when he returns to town ten years later because his father is sick, Natalia wants very little to do with Aiden. Aiden has made a successful life for himself in partnership with his brother, though sadly they are both estranged from their ailing father. In the meantime, Natalia has formed a sweet and special bond with his father and brings him lunch daily, trying to coax him to eat in a more healthy manner. She also is faced with a two faced cousin and deceitful additional ex, and tries to avoid them unsucessfully. Throughout, Aiden keeps seeking forgiveness from Natalia and her brother for his actions.
I hesitate to write more about the storyline as I do not wish to spoil it for fellow readers. This was a book I truly enjoyed; seeing that I was reading # 4 in a series that I was not familiar with prior to this, I was concerned I would not be able to follow or enjoy. I was proved pleasantly wrong as this could be a stand alone novel. Ms. James develops her characters quite well. I do recommend Rebel's Return to fans of contemporary romance.
Book Info:

Publication: August 22, 2016 | Entangled: Bliss | Red River #4
Natalia Puccini has spent her entire life playing by her overbearing but well-intentioned Italian family's rules…except the one time she took a chance on a bad boy and fell hard. She's worked to get her life back on track so when Aiden McCann comes sauntering back into town with his heart-stopping smile, Natalia vows not to fall for him again. There's no way she'll let him mess with her perfectly planned life…and there's no way she'll let him near her heart again…
Now reformed and a self-made success, Aiden is tormented by regrets and secrets. He left Red River years ago filled with anger and resentment and a promise to never come back. But when his ill father needs help, Aiden knows it's time to face the mess he left behind, and face the one woman he never got over. It doesn't matter how beautiful or intriguing she is, though, because he'll never be able to give her what she needs. As soon as his father is healthy, Aiden is leaving Red River…for good.