Our Stop by Laura Jane Williams is a sweet, funny and laugh out loud story that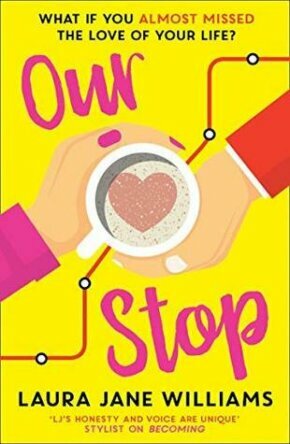 will keep you hook from the first page to the last.
It will make you think about the one that almost got away and near-misses that lead to true love in the end. This is the story of the near misses and the hunt for the one of Nadia and Daniel
These characters are relate-able. Nadia is a strong independent character and Daniel is a romantic at heart. He is the kind of character that you want to have a boyfriend. His is sweet and charming and turns up the romance when trying to find Nadia.
Their hit and miss meeting, the secret love notes and the entire story was just the thing for a sweet summer story.
Our Stop by Laura Jane Williams comes highly recommended, and I will be recommending it to all my friends.
Book Info:

Publication: Expected publication: June 13th 2019 | Avon |
What if you almost missed the love of your life?
Nadia gets the 7.30 train every morning without fail. Well, except if she oversleeps or wakes up at her friend Emma's after too much wine.
Daniel really does get the 7.30 train every morning, which is easy because he hasn't been able to sleep properly since his dad died.
One morning, Nadia's eye catches sight of a post in the daily paper:
To the cute girl with the coffee stains on her dress. I'm the guy who's always standing near the doors… Drink sometime?
So begins a not-quite-romance of near-misses, true love, and the power of the written word.
A wonderfully funny will-they-won't-they romance told with real emotional honesty, perfect
for those who loved Dolly Alderton's Everything I Know About Love as well as fans of Lucy Vine, Holly Bourne, Mhairi McFarlane and Beth O'Leary.