In Our Way by T.L. Swan, Nurse Eliza Bennet and cardiologist Nathan Mercer have ten solid years of friendship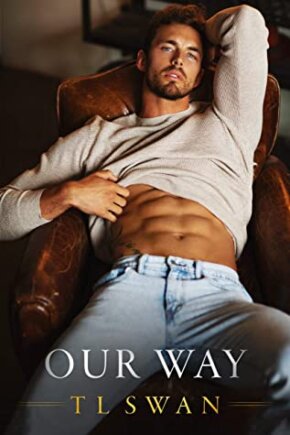 under their belts and hope to have decades more. What began with a chance meeting on their first day of work at the same hospital has turned into the kind of connection–filled with honesty and laughs–that most people envy. But like with any other relationship, Nathan and Eliza's seems to be evolving recently. And not in a direction either one of them saw happening…into feelings of a romantic nature.
'He takes my face in his hands as he kisses me, and I know he feels it, too.
Something wonderful just happened between us.
It's raw and real, and most of all, honest.'
Worried that their camaraderie will be ruined if they give in to the attraction between them, Eliza and Nathan try to ignore it. But the nights he spends crashing at her apartment–in her bed, which used to be commonplace–now only adds more tension between them. Nathan's past also adds complexity to their predicament. But through all of the fits, drama, love, and tears, it's obvious that they still have a lot to learn about each other and to sort out before they can say for sure if they're meant to sail off into the sunset together.
'He is in every corner of my heart, and I can't ever risk losing him.'
Mind. Blown. Our Way grabbed my heart from page one, stomped on it and tore it apart multiple times–but author T.L. Swan carefully pieced it back together and left a big old grin on this reader's face with the charming HEA she delivered.
'Our story isn't neat and it doesn't fit into any boxes. We are complicated and messy.
Fucked up and tainted.
But…
This is love.
Our way.'
Our Way was my introduction to T.L. Swan's work and I really don't know how to describe her writing style other than EPIC. Yes there was a ton of angst. There was game playing and tantrums fit for a toddler. (Nathan!!) Both characters were overprotective and jealous at times. But Eliza and Nathan were utterly adorable and simply perfect together. And their friendship was something all of us deserve to have in our lives. To feel that complete connection and be able to laugh, cry, just be yourself with someone without worrying how they'll react. *That* was the magic between Eliza and Nathan and what made their romantic feelings for each other so complicated. (Well, one of the reasons) Neither wanted to ruin the friendship that meant so much to them.
I will caution that Our Way had a decidedly erotic/kinky edge to it. Nothing super over the top. But it was H-O-T and reminds me of the heat level in J. Kenner, Jodi Ellen Malpas, or Lisa Renee Jones' work. And in regard to all the sexiness, I have to tread lightly because there was a *huge* twist to that part of Nathan and Eliza's story that will have you saying "wait…what?" and going back to read the book blurb again. Swan was oh so tricky in the way everything was worded and laid out for us. But I adored how it all came together in the end and loved the diversity of this romance. #loveislove
The other tidbit I enjoyed was how Our Way was kind-of-sort-of a (very) modern spin on Pride & Prejudice. I mean, the heroine's name was Eliza Bennet! She was a woman who knew her own mind, although she had some stumbling blocks to get over in terms of how she reconciled her and Nathan's unique situation. And Nathan was so very much a mercurial alpha guy who had trouble seeing his emotions for what they were. Very Darcy-like, in other words. But the rest of the story? That was wholly Swan's own creation, that's for sure.
A severe lack of communication and entertaining dramatic reactions made Our Way unlike any other contemporary romance I've read in quite some time. With every new twist Swan threw at her characters, she took readers on an incredibly challenging ride that was worth absolutely every single gasp, tear shed, sigh, and giggle. Highly recommended.
Book Info:

Publication: Published July 24th 2020 | T.L. Swan |
Nathan Mercer, the only man in my life.
Loving him was never an option.
We met ten years ago, when we started at the same company on the same day.
Both new in town and with nobody else to rely on, we quickly became friends.
And while Nathan went on to rule San Francisco, I'm still doing the same job with the same people.
We finish each other's sentences, we spend Christmas together and he sleeps at my house more than his.
He's beautiful…. beyond belief.
In another life, he's probably my soul mate.
However, lately things have changed. He's started looking at me differently.
His eyes drop to my lips as I speak.
His hugs are tighter…. longer.
Our fights are more passionate, his jealousy insane.
I know it's all in my head….it has to be.
They say to never love someone who treats you like you're ordinary.
I don't. To him I'm a queen.
But our story is complicated.
And as much as I love Nathan Mercer with all of my heart. . .
He's the one man I can never have.