Can't Help Falling by Cara Bastone s the second book in the Forever Yours series but was great as a stand-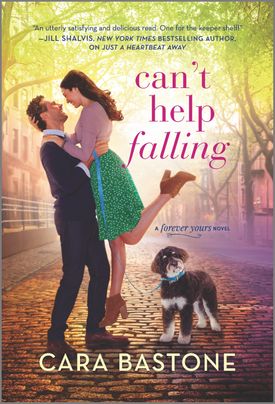 alone. The book was beautifully written, had a great plot, interesting characters, and flowed so smoothly. My attention was grabbed on the first page and it was so good that I could barely stop reading long enough to eat! The characters were so realistic and heartwarming that I fell in love with them right away. I could feel the sparks and chemistry between the main characters from the beginning. There were so many emotions throughout the book, and I could feel the character's fear, happiness, loneliness, hope, friendship, and love.
Tyler Leshuski was a sportswriter and he had helped his best friend Sebastian for the last couple of years with his infant son Matty. Now Sebastian has found Via and is engaged, Tyler's place in life has been upended. He had spent so much time at Sebastian's but now felt like he was intruding even though he was always invited to their house. He was instantly infatuated with Fin, Via's foster sister when he meets her. She haunts him with her beauty and his awareness of her. When he finally got the courage to ask her out, she refuses and tears his heart into pieces.
Serafina "Fin" St. Romain had grown up in the foster system until she moved to Brooklyn to stay with her aunt. She wanted to become a foster parent to give back, but her career as a psychic stood in the way of her being accepted. She wants a family and knew Tyler wasn't looking for commitment, but she felt guilty for tearing into him when he asked her out. When Tyler becomes guardian to Kylie, his teenage sister, Fin feels connected to Kylie because she had gone through the same thing when she was a teenager. She wants to help Tyler, but he doesn't want to open himself up to be hurt again by Fin. They slowly build a friendly relationship and start to understand each other better. But can they be strong enough to acknowledge the chemistry between them and their feelings?
Seeing how Tyler treats his sister helps Fin realize that she had judged Tyler too fast and that he was truly a great person. She realized that Via was correct, she had allowed her fears to "jam" the flow of love in her life. She couldn't love with her whole heart if she blocked people out. Tyler was trying to figure out his new place in Sebastian's life. Sebastian and he had been friends since childhood and had always been active in each other's life. He was feeling lonely and like he had lost the only family he had. I love how the author used the phrase "family group." Tyler had no real close family, but he felt he was part of a family group with Sebastian and Matty. As he becomes closer to Fin and Kylie, he allows his family group to expand and he starts to feel like a we, not an I.
I really enjoyed this book and I'm happy to have found this author. The only thing I would like to have been included was an Epilogue. I really want to know how Kylie's future turns out and if Tyler becomes her permanent guardian. I would also like to see Fin and Tyler's relationship with each other in the future and how it grew. Hopefully, we will see this in the next book of the series.
Book Info:

Publication: August 25th 2020 | Harlequin | Forever Yours #2
Serafine St. Romain doesn't need her psychic powers to know she's no longer in Tyler Leshuski's good graces. True, she did tear him to pieces when he asked her out, accusing him of being shallow and selfish. Despite the energy crackling between them, the gorgeous sports writer is a no-strings, no-kids kind of guy. And Serafine, raised in the foster system, intends to be a foster parent herself. She won't compromise that dream, even for a man as annoyingly appealing as Tyler.
In a simpler world, Tyler would already have gotten Serafine out of his system. For him, women equal fun. Not this kind of bone-deep, disconcerting desire. Life gets even more complicated when he becomes the guardian of his much younger sister. Suddenly, he's way out of his depth. Serafine's the only person who can connect with Kylie. He can't jeopardize that for a fling.
But maybe…just maybe…he's finally ready to risk everything on forever.