In Must Love Dogs…and Hockey by Kelly Jamieson Lilly has lost another job and wants to work for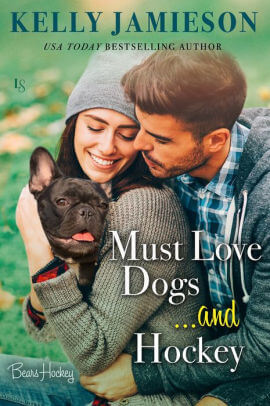 herself, running a doggie day care. Easton is a hockey player who unexpectedly winds up with a dog. After running into Lilly walking her friend's dog, he hastily hires her to walk the dog for when he has games. Lilly quickly realizes that her initial impressions of Easton are wrong, and that she likes spending time with him. Easton likes Lilly as well, but they both agree they don't want a relationship. With Easton's time in New York on the line, and Lilly's struggle to start up her business, will the pair be able to realize that what they really want is right in front of them?
It's easy to feel sympathy for both Easton and Lilly. Not only has Easton lost his father and brother in a terrible accident, but his job is on the line because his coach is abusive to the players. Easton is the only person on the team who has the courage to speak up against what goes in the locker room, and when he does, he gets punished. He feels like there's nothing he can really do, but Lilly encourages him to do something. Lilly unfairly lost her two previous jobs and wants to start her new business, which her mother and roommate don't really support. Easton, however, never doubts her abilities and supports and encourages her dreams. I liked how they come to support each other through their struggles.
There were a couple of incidents in the book based loosely on real-life events, and I thought the author did a good job incorporating them into the book. I also loved the bond Easton had with Otis, the dog that he rescued. It was adorable how quickly the pair bonded.
This is the first book in the Bears Hockey series, so several of Easton's teammates are introduced. I'm looking forward to getting to know them better in future books, as well as to see how the team moves past how the coach has treated all of them.
Must Love Dogs…and Hockey combines two of my favorite things: dogs and hockey. Because of this, I thought I'd enjoy it a little more than I did. I thought Easton could have handled what was happening in the locker room better and he should have gotten his teammates involved instead of trying to take on the coach by himself. I was disappointed that Easton's teammates didn't rally around him to confront the coach, when most of them had issues with the man. I liked Lilly, but at times I thought she was too stubborn, especially when it came to dealing with her feelings for Easton. She kept implied he was too cocky and she didn't like that, but I honestly didn't feel he came across that way. She keeps trying to keep him at arm's length, but at the same times she wants to be closer. Both Easton and Lilly are wishy-washy about having an actual relationship. These things brought the book down a little for me.
Having read several books by this author, I will say this wasn't my favorite of hers, but I still enjoyed it. If you enjoy hockey romances, opposites attract books, and stories involving cute, hyper dogs, this is a book for you.
Book Info:

Publication: September 8, 2020 | Loveswept | Bears Hockey #1
Lilly: My life is like the love child of a train wreck and a dumpster fire right now. I've been canned, my professional reputation is shredded, and now I'm walking dogs to make ends meet.
But I still believe everything will work out. Somehow.
Then a dog at the park attacks my friend's dog. At first, I'm ready to give the owner hell—but it turns out he's in desperate need of doggie daycare. I figure, why not? I love dogs and I need the cash.
Too bad his cocky bad boy attitude annoys me. He's too damn cute for his own good. And I'm not talking about the dog.
Easton: My coach is riding my ass and I'm not handling it well. When I'm saddled with an abandoned pooch, my teammate thinks a dog will keep my temper in check. I think I have enough problems already.
But when my new dog gets into a tussle that leads me to meet a smoking hot chick who knows how to handle the rascal, I start to think pet ownership isn't all bad. At least it gives me an excuse to see Lilly again. . . .
Neither of us are interested in a relationship. First they steal your bed, then they steal your heart. And I'm not talking about the dog.