In Overdrive (Calhoun Custom Garage #1) by Juanita Kees, Charlotte 'Charlie' Jackson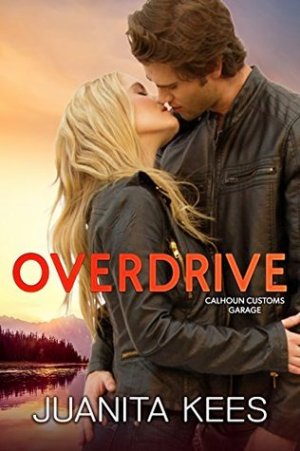 is determined not to give into her father's ultimatums, so accepting a job with Calhoun Custom Garages is the perfect opportunity to lay low and decide what to do about her future. However, she knows time is running out before her past catches up with her. Still, she's determined to be a good mother to her baby and prove she's fit to care for her little one by getting a job and having somewhere to live. Yet, she never expected Chase Calhoun to worm his way into her heart and show her everything she's been missing – love, family and happiness. Will Chase be able to help Charlotte be free of her past or will they lose their shot at happy ever after because Charlotte's father isn't one to give up on getting what he wants?
Carter shook his head. "Yes, mother. I'm on it."
Chase's eyes flashed, and he gave his brother a little shove. "Smart-a**."
Carter placed a gentle hand on Charlie's arm. "Don't let him mother you too, okay?"
Charlie cast an uncertain look at Chase. He removed his brother's hand from her sleeve. "Ignore him. Carter's like an untrained puppy." The smile he delivered turned her knees weak. "This is what happens when we let him off the leash."
What an absolutely wonderful start for this series Ms. Kees has crafted in this book where the Calhoun family are remarkable and had me loving the close relationships they have with each other; the heroine has been through so much, but is determined to prove she's no longer the rebellious girl she once was; the dialogue was riveting and had me enjoying the main characters back stories, as both have been through tough times; and the tough obstacles these two face to be together had me loving that they overcame them because Charlie and Chase are so good for each other and help each other to heal from their pasts. Since Chase had to grow up at such a young age to help out his dad with his siblings while the heroine has never known the love of family and has done everything she can to get her parent's attention.
As for the dialogue, it was intense due to the main characters back stories and everything these two go through on their journey to happy ever after, as the heroine does her best to not allow her past to bring trouble for Chase and his family while the hero does his best to help the heroine and show her that there are good people in the world willing to give her a chance and show her that everyone is deserving of love. Will Chase be able to win Charlie over? Moreover, I liked the decisions the heroine makes throughout this story because she can't allow her father to continue to rule her and I liked how resilient and brave she is in standing up to him. I also liked how she helps the Calhoun family to heal from their tragic past because no one deserves to continue to be haunted by such tragedy. Then again, the ones they've lost wouldn't want them to be sad and feel such guilt forever.
While the hero, he's done everything he can for his family and I love how his siblings tease him because he's always mothering them and making sure they're all right. Really, he's the glue that holds them all together, especially with what they're now going through with their dad and him not being able to do as much as he once did for the family business. I also liked the hero's confidence, his determination to prove to Charlie that she can trust him and what he's willing to do to make sure her baby stays with her. No way will he let her dad get away with his threats because Charlie is a good mother and determined to do everything right for her little girl.
"Charlie Jackson, will you stay with me forever and steal my chicken salad sandwiches for the rest of our lives? In return, I will love you for who you truly are and be the best dad to Zoe I could possibly be."
"How can I refuse an offer like that? Charlie Calhoun – customer designer, wife, partner, future mother to another generation of Calhouns. It has a nice ring to it."
Overall, Ms. Kees has delivered a wonderful read in this book where the chemistry between this couple was powerful; the romance was delightful and had me glad that these two could help heal each other from the demons of their pasts; and the ending had me cheering for this couple's happy ever after because of what the hero and heroine were willing to do to make sure her father doesn't get what he wants. Furthermore, the ending had me surprised by things that were revealed because Charlie's father is a real piece of work that has wielded his power to get what he wants without care for anyone else's feelings. Will the heroine finally be able to have a happy relationship with her brother and mother after everything that's happened? I would recommend Overdrive by Juanita Kees, if you enjoy the mysterious strangers trope, the opposites attract trope or books by authors Jennie Jones, Jane Porter, Kelly Hunter and Victoria Purman.
Book Info:

Publication: June 26th, 2018 | Tule Publishing | Calhoun Custom Garage #1
Chase Calhoun has worked hard at making Calhoun Customs a world-wide sensation and keeping his father's dream alive. He hasn't had time to think about settling down, so he's not expecting to find love or new life in their garage amongst the ghosts of his family's past.
Charlotte Jackson is on the run from a rebellious past, determined to prove she can be a good mom to three-month-old baby, Zoe. Tired of being delegated to the back office of the racing team her famous NASCAR family owns, she sets out to establish herself as a custom design artist. But her past soon threatens her future and everything she's worked hard to build is challenged.
While Chase slowly loses his heart, Charlotte learns that sometimes family is more than just blood and DNA.