Owen by Melody Anne is sexy, charming, and determined to get Eden back. After unexpectedly moving away,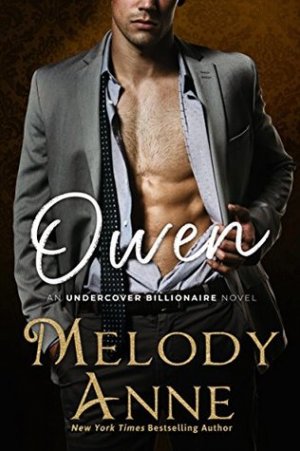 he's back in town and he knows what he wants. He's dedicated to helping others and he loves his job, even though he wouldn't actually need to work. If you didn't know his last name, you wouldn't know that he's wealthy.
Eden is smart, strong, and wishes she isn't so affected by Owen. She's made a life for herself in their hometown and picking up the pieces when Owen left her without a goodbye. She hates that she's still attracted and connected to him in spite of their past.
With a wildfire ready to engulf their town, Owen is working night and day with the hotshots to save the town and contain the fire. While Eden has tried to avoid Owen, that ends quickly when she's assigned to investigate the fires and he's considered a suspect. Eden and Owen have a complicated past and he's made no secret that he's more than ready to pick up where they left off.
"And run away from all our problems?" she questioned. "Run away from what's happening here now?"
"I'm not trying to run anymore. I just want you to know the door's never shut when it comes to you and me. Your dreams matter to me, and I want to hand you the world."
Eden is determined to solve this case, even if it means working with Owen to get to the bottom of it. She doesn't know if she's really ready to resume any sort of relationship with him, but it's getting harder to ignore their chemistry and the sense of comfort he brings in such a turbulent time. They work well together and it gives Owen plenty of opportunities to show her that he wouldn't hurt her again.
"We aren't a couple anymore, Owen," she said, her voice husky.
"If it makes you feel better to say that," he told her. "But you're mine."
Owen is a second chance story packed with suspense, heat, and family. Melody Anne balanced the romance and danger with character development and the mystery of who might have set the fire. Ms. Anne created an entertaining cast in their friends and family. Owen can be read as a standalone in the Undercover Billionaire series. Fans of Jessica Clare and Sierra Kincaide will enjoy Owen.
Book Info:

Publication: December 4th 2018 | Montlake Romance | Undercover Billionaire #3
In New York Times bestselling author Melody Anne's blazing novel of desire and betrayal, a second chance at love is a hot—and dangerous—proposition.
There was a time when Eden's entire world revolved around Owen Forbes. They were inseparable childhood sweethearts. They planned a life together. Then, without so much as a goodbye, Owen vanished. Now, after ten years, he's returned to town as the hottest new firefighter on the force. Whatever secrets pulled them apart, Eden can't fight the sparks reignited by the man who broke her heart.
Owen knows he did Eden wrong. If only he could tell her why. As body meets body, he's whispering for a second chance—wanting her back so bad it hurts. It can also be dangerous. An arsonist is targeting the small town of Edmonds, and Eden with it. And it's Owen himself who's become engulfed in suspicion.
Eden knows that with a past as hot and mysterious as Owen's, their future together could go up in flames. Because the one man she's afraid to trust is the only man she desires—and the only one who can save her.