Want Me, Cowboy by Maisey Yates is a sexy and enjoyable modern marriage of convenience romance set in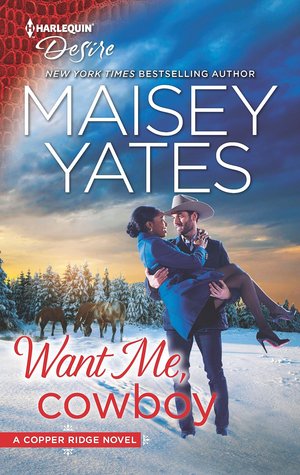 the author's familiar ranching world of Copper Ridge, Oregon.
Poppy Sinclair has been working for her methodical and introverted boss Isaiah Greyson for several years now and they make an efficient team. She's had a crush on him since he first dated her foster sister, a relationship that ended in disaster and caused Isaiah to close off his heart to new partners, preferring casual hookups instead. Poppy is firm in her belief that Isaiah is off limits. After all, he's not only her friend's ex-boyfriend, he's also her boss.
That changes when Isaiah decides he wants a wife, and asks Poppy to interview prospective brides. Poppy understands that what Isaiah is really looking for is a carbon copy of her for his home life, with the added benefit of sex. When she confronts him with this, Isaiah agrees – and proposes to her! It's Poppy's fantasy come true, except that she'd imagined a declaration of love, not a practical marriage of convenience. But what starts as a simple arrangement becomes decidedly complicated when sex and emotions come into play. Can their marriage turn into a real happy ever after?
I loved this story! Isaiah and Poppy have worked together long enough to become friends and to understand each others quirks and character. Isaiah is good with numbers and not with people, but with his brothers finding partners he thinks it's time for him to settle down too. Some people think he is cold but the truth is that he cares deeply, even if he doesn't like to express those emotions. He's also a little bit clueless when it comes to Poppy. He's seen her in a specific role and never thought of her as a desirable woman but that all changes when he suggests testing whether they have chemistry with a kiss – and what a scorcher it is! It leads to some sexy love scenes as the story progresses.
Poppy grew up in a series of foster homes and learned not to take things for granted. The Greyson family has always been very warm and welcoming and the idea of really being a part of their family as Isaiah's wife is very appealing. But she's always yearned to have someone love her too, and isn't sure whether marrying Isaiah without love on his side (because she's loved him forever) will be a mistake. Fortunately Isaiah comes to his senses before it's too late and is able to convince her that their happy ending is as real as it gets. It's a delightful romance and a great addition to the series!

Book Info:

Publication: Nov 6, 2018 | Harlequin Desire | Copper Ridge: Desire #5
Her rancher boss is looking for the perfect wife…and she wants the job!
Poppy Sinclair kept her feelings for Isaiah Grayson secret for a decade. When her infuriatingly gorgeous Stetson-wearing boss enlists her help in finding him a convenient wife, she threatens to quit. Until Isaiah counters with an interesting proposal: Why doesn't she marry him? Can she say yes to sharing his life and his bed, but not his heart?