Paradise Cove by Jenny Holiday: When Dr. Nora Walsh's relationship ended in a less-than ideal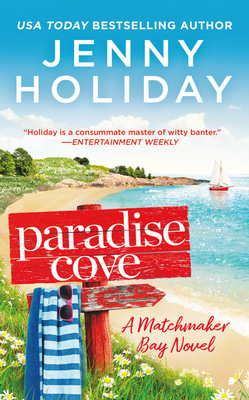 manner, she leaves the city ER behind to become a small-town doctor in Matchmaker Bay for two years, all while dealing with her grandmother's cancer diagnosis. The last thing she expects is to meet a large, quiet man named Jake Ramsey, who immediately catches her attention.
Jake has dealt with his own heartbreak. He sees no reason to really speak unless it's necessary, but he finds himself wanting to talk to Nora. He shows her a side of himself that he lets few people see. The more time they spend together, the more they fall for one another. When something happens that causes Jake's pain to resurface, will he be able to work through it so he and Nora can have the future they deserve?
I must say I enjoyed this book more than I did the first book in the series, where Jake is initially introduced. You can't help but feel for both characters, especially Jake and what he has been through, as it's absolutely heartbreaking. He's not dealing with it well, but I liked that Nora gently encouraged him to open up and talk about everything.
While there is an immediate attraction between the pair, the romance is a slow burn. I liked that they really took the time to get to know one another, and I was enjoying both characters, until one section knocked my opinion of Jake down a couple of notches. He didn't handle an announcement of Nora's well, and what he said was downright cruel. I understood it came from a place of pain and he lashed out at her because she was there and an easy target, but it was wrong. Honestly, I wouldn't have blamed Nora if she decided not to be with him anymore after that. He does attempt to make up for it and takes steps to help them both, but he definitely lost points there.
Paradise Cove is a well-written, emotional story with characters dealing with real-life issues and heartache. I would recommend it to readers who enjoy small-town romances.

Book Info:

Publication: July 28, 2020 | Forever | Matchmaker Bay #2
Dr. Nora Walsh has just been dumped in spectacular fashion, making it the perfect time for a major life change. She figures taking over the medical practice in tiny Matchmaker Bay for a couple of years will help her get over her broken heart, and then she can head back to the big city. But when the first man she sees looks like a superhero god, she wonders if maybe there's something to small-town living after all.
Jake Ramsey also has a broken heart — one he never expects to heal. He doesn't need people anyway and is content hiding out in his secluded cottage on the beach. But after helping Nora with a medical emergency, he finds himself opening up to the witty, warmhearted doctor. Soon the local matchmakers are working overtime to pair them off, and Jake begins to wonder if his campaign to get Nora to stay is for the town or because he can't bear the thought of her leaving.