In The Mistletoe Kisser (Blue Moon #8 Lucy Score, If anyone had told accountant Ryan Sosa that he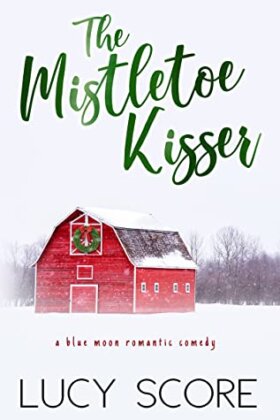 would be spending the holidays this year in a hippy-dippy town called Blue Moon, jobless and sorting through his great-uncle Carson's decades of financial paperwork, he would have laughed. But Ryan isn't laughing at the moment. Not when his great-uncle took off, leaving him high and dry to solve the crisis. And to add to the confusion, there's the sheep named Stan he damn near ran over on his way into town, and a bunch of gossipy locals trying to push him together with their cute-as-all-get-out local vet, Dr Sammy Ames. Not that Ryan minds spending time with the good doctor. Actually, he's had the most fun since he can remember riding around the festive town with Sammy. Although it's making him nervous that he finds himself not wanting to leave her–or Blue Moon–anytime soon.
'The icy dread of the unknown, all the "now whats" that had circled endlessly in his brain were quiet. Vanished as if they'd never existed. The only thing that existed, that mattered, was the woman in his arms.'
Ryan came into Sammy's life like a grumpy breath of fresh air. With his model good looks and his huge…brain, it's no wonder she can't get him out of her head. There's something so genuine about him, right down to his blunt honesty. But Sammy has a *lot* on her plate this holiday. Between trying to grow her vet practice, take care of her rescue animals and get set up as a non-profit, as well as get ready for the Solstice festival, she has no time for romance. Or does she? Ryan is too tempting to not have some fun during his short stay in town. But as Sammy starts giving in to her attraction to the sometimes curmudgeonly accountant, she begins to wonder if maybe they could have more than a fling together.
'This was happening. Really happening. She was getting her happily ever after… Scratch that. She was getting her grumpily ever after.'
The Mistletoe Kisser was the perfect feel-good romantic comedy I needed this holiday season to forget about all the craziness this year and, instead, enjoy the wackiness that is Lucy Score's beloved fictional town of Blue Moon.
'It was a weird town full of weird people. But the friendly, kooky kind of weird. Not the starting-a-militia-in-the-backyard kind of weird.'
What fun! I might be new to the Blue Moon series but I've read a few Lucy Score novels now and have to say that I simply adore her writing style. And The Mistletoe Kisser had everything I hoped for: it was super modern, had crazy-funny dialogue, offbeat characters I want to spend (more) time with, and a couple who were absolutely meant to be together. It didn't hurt that Blue Moon–and its locals, who call themselves Mooners, lol–was about the quirkiest, most comical and lovable town I've "visited" since I fell in love with Molly Harper's Half Moon Hollow. (Albeit Molly's books were paranormal romance, but still…)
Sammy and Ryan couldn't have been better together. She was a charming, beautiful do-gooder who was always helping people and animals, great and small, with little to no time for herself. Ryan was a handsome accountant who had a penchant for organization, making plans and was just a tad grumpy. Okay, a lot grumpy sometimes. But not mean. See what I meant about being perfect together? Sammy's cheerful go-with-the-flow demeanor was the right antidote to Ryan's pragmatic ways. Their chemistry was insanely hot. And I loved the flirty and oftentimes humorous conversations they had.
Blue Moon's zany, well-meaning townsfolk made The Mistletoe Kisser even more hilarious to read. I won't spoil the shenanigans they all–and I do mean *all*–got up to but let's just say the Beautification Committee might have had a hand in things. As well as Sammy's close group of girlfriends. Oh, and then there was Stan the sheep who was more like a dog. We also had the menagerie of rescued animals living in Sammy's house. And to top it all off, lots of holiday goodness, inclusive in all denominations of course.
A delightful story from the meet-cute beginning to the gloriously romantic end, The Mistletoe Kisser tops my holiday reading this year for sure. Thank you, Lucy Score, for the laughs, the dreamy sighs, and the cheer you brought to this frazzled reader.
Book Info:

Publication: Published December 3rd 2020 | That's What She Said Publishing | Blue Moon #8
"Just because I don't run around with a stupid grin on my face all day every day doesn't mean I'm grumpy."
Ryan Sosa, grumpy former corporate accountant, has had it up to here with surprises. He didn't see getting fired coming. And he certainly didn't anticipate flying across the country to the world's hippie-est, happiest, most annoying town to save his great-uncle from some mysterious emergency.
Not only is there actual snow on the ground, but the town of Blue Moon appears to have decked its halls with elves on psychedelics. But he doesn't have time to be snarky about the impending Winter Solstice and Multicultural Holiday Celebration—whatever the hell that is. Not when he's got a farm to save, a free-range sheep that he may or may not have nudged with his stupid microscopic rental car, and some small-town veterinarian telling him she can't take the animal off his hands.
Dr. Sammy Ames has a practice to manage and a fundraising crisis to attend to. She doesn't have time to deal with a big-city grouch who doesn't remember being her first kiss ever. Especially not since he wants to dump a sheep named Stan on her. So not happening. No matter how cute—and naked—Ryan is when he's drunk.
Besides, as soon as he solves his uncle's problem, he'll be on the first flight out of Blue Moon, never to return again.
It will take a Winter Solstice Miracle or perhaps some matchmaking interference from the Beautification Committee to get these two to see eye-to-eye under the mistletoe…unless they got the Wrong Ryan after all.