In Passion and Ink (Sweetest Taboo #2) by Naima Simone, Cypress 'Ro' Winters hasn't had the best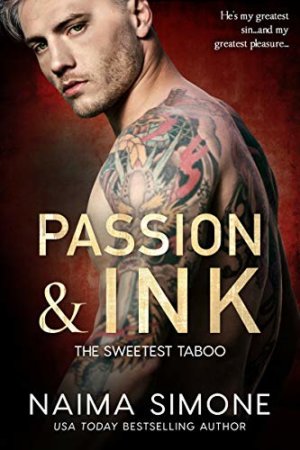 year. She lost her job, moved home and is now slinging drinks in a dive bar. If that's not bad enough, she finds herself being blackmailed by her own father – stay away from her step-brother Jude, and her father will pay her mother's medical bills. However, staying away from Jude isn't easy, especially after the night they spent together. Will Cypress fight for her relationship with Jude or will she run scared from her shot at happy ever after?
"I wasn't completely honest with you earlier," I rasp, needing to change the subject, to wash the bitter taste of failing the ones I love, the ones I'm supposed to protect, from my mouth. And she can it. Her taste. Her tongue wrapped around mine. Her bare, smooth skin connected with mine by hard-won sweat. "True, when I walked into the bar tonight, I wanted a diversion, an escape. I saw you, and then wanted you. I wanted to f*** you." I lower my head until her small puffs of breath forming soft clouds in the air ghost over my lips. "I still do."
Naima Simone's stories are brilliant and this second book in the Sweetest Taboo series was absolutely captivating, wonderfully-crafted and deliciously sexy. Really, the way this story started drew me into the story immediately and had me reading quickly, determined to discover more about the heroine. Why is she working at a dive bar when she seems more like the office nine-to-five type of working woman? However, it was from the moment the hero and heroine come face-to-face for the first time where this story really gets interesting because it's palpable the hero needs a distraction and the heroine seems perfect for what he has in mind.
As for the dialogue, it was absolutely engaging and intense due to the main characters back stories and the tough obstacles these two face to be together such as whether the heroine is willing to risk her father discovering the truth if she continues to get up-close-and-personal with Jude and whether the heroine can put her trust in Jude enough to give forever after a chance. Will the heroine risk losing out on what she's asked her father for to be with the man she's falling in love with? Will the heroine give the hero a chance considering how she feels about relationships and love?
"I don't know what happened to you out there in California, but it's screwed up the way you view people. Makes you look at an outstretched hand as if it's about to haul back and smack you. Makes you see kindness as pity. Has you viewing help as a burden. Friendship as obligation."
Screw him. "We're not friends," I point out…again. As if the more I say and think it, the deeper it will sink. But not for him, for me.
With the main characters, they are so good together and for each other. Who cares that they are step brother and sister? They're only related by marriage not blood. Yet, at the same time, I could understand why the heroine's father was worried after everything that's happened in the family recently with Jude's oldest brother, Knox. Still, I liked how Jude fought for his relationship with Cypress because she's become everything to him. Moreover, the heroine is resilient, courageous and I liked that she gave the hero a chance, even though it's not easy for her to trust people after things that have happened in her past. Really, she was a victim, even if she likes to think she isn't and deserves justice. I also liked that she would do anything for those she cares about, even though what her mom really needs is a case of tough love to make the woman understand that she's holding on to hope that just isn't there.
While the hero, he's charming, determined to make his own way in the world instead of being in the shadow of his older brother like he feels he's always been, and I liked how determined he was to win over the heroine because she needs someone on her side; someone that will prove to her that not everyone leaves her. Moreover, I also liked how the hero finally confronts the past when it comes to the secret he's been hiding; a secret that has haunted him for years because it's one he shouldn't have had to keep. Will the hero be able to help bring his family closer together by finally speaking his mind about things that happened in the past that he wished he'd done differently?
He snorts. "I'm not the one being David to Goliath." His smile fades, and his hands abandon my waist and cups my face. "And I would be anything for you, whatever you need. Whatever you want. Just as long as I can be yours."
"And I can be yours." I kiss him, long, hard and then gentle and sweet. Just like our love.
Overall, Ms. Simone has delivered another marvellous read for this series in this book where the chemistry between this couple was intense and convincing; the romance was fan-your-face hot and had me loving this couple together; and the ending had me loving the heroine's courage because she can't live without Jude in her life and shouldn't have to. Nothing and no-one should hold her back from forever love. Not herself and especially not those that care about her. However, it was the epilogue that wrapped this story up wonderfully, as things are going spectacularly for the hero and heroine. Really, life couldn't be better, especially with how the heroine is finally fighting back because of what happened to send her running back to her hometown in the first place. I would recommend Passion and Ink by Naima Simone, if you enjoy Erotica romance, the forbidden romance trope or books by authors Stacy Reid, Avery Flynn, Lauren Blakely and Gina L. Maxwell.
Book Info:

Publication: February 18th, 2019 | Entangled Publishing | Sweetest Taboo #2
Blackballed from my job.
Moved back to my hometown with my tail between my legs and family issues crushing my back.
Slinging drinks in a dive bar.
Yes, the past year has been hell. So when a man who's temptation wrapped in golden skin and sin offers me one night of no-holds barred, dirty sex, I'm all in. I deserve it.
But now those few unforgettable hours have me facing blackmail from my own father: He'll pay for my mom's medical bills, but only if I never again touch the man who has quickly become my obsession.
Because the man? My obsession?
He's my stepbrother.