In Passionfruit & Poetry by Tea Cooper, Jeanie Baker has always lived in the little town of Oldbridge with her grandmother. Now she is trying to help her grandmother Norma pay the mortgage on her Café Cinematique, the place Jeanie believes to be her one and only safe place. Too bad that Norma has her own ideas and decides to put the café into Places Are Us, and now they are being invaded by strangers for a photo shoot.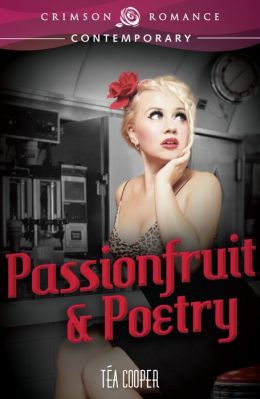 Xander Fitzgerald is a famous fashion photographer in Sydney, but for this photo session his assistant took them to a small town in the middle of nowhere. One thing he does like is Norma the owner of Café Cinematique, as she shows him and tells him about all her posters from the old classic movies she loves. But when he meets her granddaughter Jeanie, he can't help the instant attraction he feels. She is not his usual type, but her curves look more natural and womanly unlike the all boney  models.
When Norma asks Xander to take a picture of Jeanie as a favor, he immediately agrees, what he doesn't expect is the instant denial from Jeanie. She does not want to have her picture taken no matter what, but when Norma convinces her he becomes instantly intrigued by the shy woman in front of the camera.
Jeanie's air of vulnerability and shyness draws Xander more and more as he looks at her pictures and he can't stop thinking about her. When an idea springs to mind, to use one of her pictures for a contest for the cover of a magazine. Unfortunately, he must first get her signature agreeing to enter the contest, good thing that he can count on Norma to convince her.
To Norma and Jeanie's surprise, Jeanie becomes one of the twelve finalists, and they go to Sydney for the final contest. But that will not be the only surprise, for when Jeanie wins the cover contest, she will have to do a ten page spread with more shots taken by Xander. Being together for a full week will not be easy for either of them, and their attraction may just be irresistible and unstoppable.
Xander and Jeanie have a fun adventure ahead, but Jeanie's childhood insecurities will start to come back as they have to face new challenges. And the biggest challenge of all may just tear them apart or help them grow enough to be able to fight for the love that has started to grow.
This is not your usual heroine, but that just makes her more special. Not being skinny is not a sin and women must learn to love themselves as they are and not by the way people judge or treat them. Don't miss Passionfruit & Poetry by Tea Cooper, for a fun, entertaining and uplifting read.
Book Info
Publisher: Crimson Romance (June 17, 2013)
When darling photographer of the Sydney fashion scene Xander Fitzgerald takes a shot of Jeanie Baker, his ISO settings hit red alert and no one's life is ever the same again.
Jeanie believes she is content – a small town girl happy running the Café Cinématique with her grandmother—but with Xander's arrival her life takes an unexpected turn and she finds herself unwillingly thrown into the limelight.
For a girl with few ambitions Jeanie's new life is at once both terrifying and strangely liberating, and in Xander's company she blossoms into a woman she hardly recognizes. But the sophisticated life of Sydney is full of smoke and mirrors and when her past comes back to haunt her all she wants is to head home, back to passionfruit pie and her grandmother's warm hug.
Xander discovers he can't have his cake and eat it too. He has to make some serious decisions, but is he prepared to give away everything he has worked for to win the woman he first glimpsed through the lens of his camera?
Sensuality Level: Sensual