In Heating Up Hawaii by Carmen Falcone, Penny Ashbrook dreams of opening her own PR business but the problem lies in that her first possible client for her to open her own business will be hotel magnate Luc Leoni, her old lover from eight years ago. They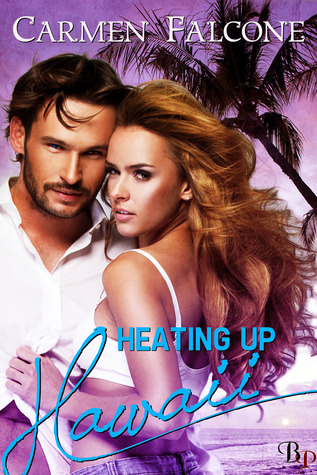 both believe that the flame of their passionate love affair has burned out, but they were two completely different people back then and now the grown up versions of them will start a new flame that will burn brighter than the one before.
Penny had a hard childhood that still affects her and her relationship to others her parents split up after her mother discovered that her husband was being unfaithful, but that not only destroyed their marriage, it also destroyed her relationship with Penny when she learned that Penny knew about the affair. Things would have been even more difficult if Penny's grandmother would not have been there to help her along the way.
After the death of his father Luc took the reins of his family, taking on the responsibility of the care of his mother and his disabled brother but a burden that heavy on a young man's shoulders can make him not want any more responsibilities any time soon.
As much as Penny and Luc try to keep their new relationship entirely professional, working in close proximity will make things difficult for them both. For as much as they want to deny what's growing between them, the attraction and chemistry will not be denied and things will burn brighter and hotter than it did before and the bond that links them will grow even stronger.
Penny and Luc will have to accept their own part in the reason for their breakup and face their past if they are to get beyond that and be able to have the true happiness that they only have been able to feel when they are together.
If you want a hot, passionate read with a wonderful plot and a lovers re-united theme, then Heating Up Hawaii by Carmen Falcone is the one for you.
Book Info
Publisher: Breathless Press (May 2, 2013)
After a long separation, will Penny and Luc's sizzling attraction be enough to surpass their startling secrets?
There is just one person standing between Penny Ashbrook's dream of opening her own PR business or being stuck at her job: the formidable Luc Leoni – her first lover, and the man who lets nothing and no-one get in his way. Seeing him after so long brings all the hidden emotions after a life altering break-up to surface. Pain, denial…and lust.
Luc has made many sacrifices for his career, including Penny Ashbrook, the woman who set his aspirations back a year. But now she has returned and is more alluring than ever. After all these years, he thought a self-made billionaire like himself could master everything, but to resist the strong pull toward the one woman he can't have is an impossible task.
When this unlikely pair is reunited they will have to face the many challenges set in their way, especially an attraction that has only heightened with time and a deadline quickly approaching. Can their new bond surpass old—and new—fears?