In Pause (Larsen Bros #2) by Kylie Scott, After a terrible car wreck left Anna in a coma for several months, she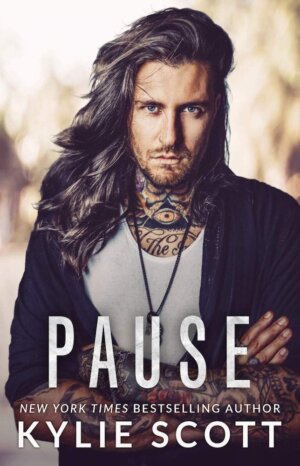 reemerges into the world only to find out that her entire life has changed. She's healed from the worst of her injuries but has a long way to go regaining strength and relearning everything. The worst part, though, is Anna's husband has apparently had a fling with her best friend. Something Anna just can't get past. And she's not sure where that leaves her in the grand scheme of things.
'But I can't go through life just waiting to get knocked down again. That's not living. I will be brave and not cower in constant fear of the pain and turmoil life can throw at me.'
Feeling like everything has imploded, it's when Anna meets the stranger who saved her that she begins to get her life in order again. First, she needs a place to stay–one that isn't her parents' home. Just like at the scene of the accident, Leif comes to her rescue again. As his roommate, Anna knows she'll feel safe and can stay close to her family and her doctors for follow ups. But will her heart be safe from falling for Leif as they get closer and realize the pull between them is more than just lust?
'I'm not used to being around beautiful sunshine-y people. Wild men with long hair and ink who keep smiling at me and giving me chances when I mess up. They're an adventure all their own.'
Kylie Scott is undeniably a master at writing flirty, sexy banter. (Insert any of her previous novels here) But I think Anna and Leif took it up a notch in Pause with their sizzling chemistry and the awesome–oftentimes raw and heartfelt–conversations they had while recovering from the traffic accident that changed both of their lives.
"I feel like an inconvenience in my own life."
His gaze is soft and sympathetic. "Anna…"
Oh, God. I'm the worst. The absolute ruling queen of negative losers. "And then for fun, I whine at hot guys."
At this, he immediately perks up. "You think I'm hot?"
What is it about the characters Kylie Scott creates that makes them so endearing that they own your heart almost immediately, right? I felt that way about Leif and Anna, with their shared experience of surviving a serious accident that affected them physically, mentally, and emotionally. There were some heavy moments while they sorted through their thoughts and feelings about it. But it was the attraction between Anna and Leif that took them by storm and that dominated the pages right until the happy ending. And I couldn't get enough.
If you've read book one in the Larsen Bros series, Repeat, then you've already "met" Leif. If you haven't read it, don't worry. We get up close and personal with the gorgeous tattoo artist in this installment. (That sexy book cover is pretty much spot-on!! *dreamy sigh*) I will caution that the plot and outcome from Repeat is briefly discussed here so there are some spoilers but it was necessary for Leif to bring up past events to Anna so she would understand him better. I have to say that he was a good guy right down to the core. Leif had a wonderful sense of humor, was artistic, outrageously flirty at times, but could be sensitive, and was certainly a safe place for Anna to turn.
Anna was one tough cookie–underneath all her understandable baggage and tangled up emotions. She had a totally different background from Leif but was quick to look past it and was honestly more comfortable with him and his down to earth family and friends than a lot of people from her past. The accident was the beginning of a hellish year for Anna. I won't get into details because they're an important part of how Scott draws readers into the storyline. Suffice to say, though, that the bond it created between Anna and Leif was instant and only grew from there in a very natural way.
Absolutely sigh-worthy, Pause was a roommate romance that fully delivered with a solid plot and all the heat and emotional depth I expect from Kylie Scott. Definitely recommended.

QOTD: Do you have a favorite Kylie Scott book?

Book Info:

Publication: Published July 12th 2021 | Kylie Scott | Larsen Bros #2
An unpauseable new romance from New York Times bestselling, Audie Award winning author Kylie Scott!
When Anna wakes up from a coma after a car crash, she discovers life has gone on without her. Her husband has been unfaithful—with her best friend—and she's been long since replaced at work. While her old life is a distant memory, her new life feels like an empty shell. Then she meets the stranger who saved her life during the crash, and he changes everything.
Leif Larsen—tattooist, joker, and player—has his own scars thanks to the crash that put Anna in a coma. Helping her move on from her failed marriage, and create a new life, sounds like a perfect distraction. So when he needs a new roommate, he invites Anna to begin her new life with him.
Although their lives may have been put on pause, together they just might find a way to heal.