Lost and Found Family by Jennifer Ryan: Sarah Anderson loves her two sons, Jack and Nick. Sean Spencer, their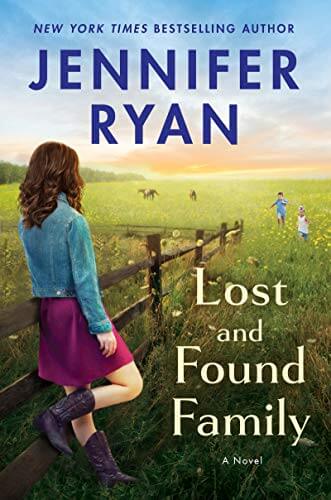 father, died in an auto accident which occurred two year ago. The boys' paternal grandmother, Margaret Spencer, was devastated by the loss of her son but for some reason blames Sarah so Margaret didn't see Jack and Nick during that two year time period. Sarah was very surprised to receive a letter from Attorney Luke Thompson "requesting" the presence of Jack and Nick for six weeks at their grandmother's home. Sarah realized the "request" was a demand and even though Margaret treated Sarah poorly Sarah agreed to the visit for her sons' sake. Little did Sarah realize this visit was about to change her life dramatically.
Luke Thompson is a defense attorney with the family's law practice. He enjoys the job but prefers the days he spends on his ranch which is next to Margaret Spencer's house. Luke went to school with Sean Spencer and their families are friends. It was Luke's suggestion to Margaret to invite Sarah, Jack and Nick for the six week visit before starting court action to require visitation or try to get custody. Margaret had told Luke negative, nasty stories about Sarah but when Luke meets Sarah he starts to doubt the veracity of what he has been told about Sarah. It didn't take Luke long as he got to know Sarah to start falling in love with her.
This is a sweet and steamy romance story. Sarah has had a troubled childhood as her mother died when she was quite young which led her to foster homes and eventually to her abusive uncle's ranch. Plus she never knew her father. This background leads Sarah to feel the need for security and family love as an adult. She never got that with Sean Spencer who cheated on her. I was so happy to see Sarah find that with Luke. Luke suffered a number of relationships with women who were only with him because he was rich so he was disillusioned. Finding Sarah renewed his faith. In this story I admired Sarah but I fell in love with Luke. Their HEA was well-deserved.
Book Info:

Publication: July 6th 2021 | William Morrow Paperbacks |
If you love Jill Shalvis, Lori Wilde, and Susan Mallery, then you won't want to miss New York Times bestselling author Jennifer Ryan's riveting new novel about family, secrets, and a woman ready to embrace who she really is by facing down her past.
She would do anything to protect her children, including keeping her secrets buried with her late husband…
All families have secrets, and no one knows it better than Sarah Anderson. Hiding the truth about her late husband from their children is only half of it. She's let her mother-in-law, Margaret, hate her for years, just to keep the illusion that her son was perfect intact.
But when the older woman threatens to remove the boys from her home, Sarah strikes a bargain: she'll bring them for a six week visit, even though it goes against her every instinct.
Complicating matters is attorney Luke Thompson. An old friend of the family, he's agreed to investigate Sarah's past, although he doesn't feel comfortable poking around in her private life. What he finds is a truth very different from the one he's been led to believe.
All Sarah ever wanted was a family, and all Luke wants now is her love. The time has come to reveal the terrible secrets that have been kept for so long. In losing the past, a new love—and family—can be found.