In Pelican Point by Donna Kauffman, Alex and Logan are both haunted by the past.
Alex is by profession a light house restorer and when the opportunity comes up to restore the lighthouse in Pelican Point the timing is perfect. A year after her father's tragic death and the events that followed it, Alex is trying desperately to hold it together and move on.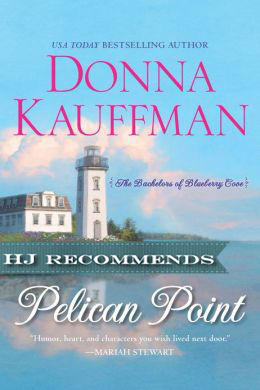 Logan is the owner of the property and the lighthouse Alex is headed to when her finds her and her truck both broken down on the road home. Logan has no desire to restore the light house or the cottage for reasons in the past of his own. But his uncle hired Alex on the sly, and Logan can't just send her on her way right away in the state she is in. Allowing her to stay in his guest room until she feels better, soon Alex, Logan's uncle, and the rest of the town have convinced Logan to at least let Alex assess the property.
Logan has every intention of sending Alex on her way after a week, but soon Pelican Point has come to mean more to Alex than she expected it to, and she's not sure she wants to go anywhere. She intends to stay to get some work done, even if it means finding a place to stay outside of Logan's home. Working closely at times with Logan and running into him in small town Pelican Point makes it hard to deny the feelings they both bring out in each other…whether they want those feelings or not. The more time they spend together, the more they feel a connection and the hotter things get!!
But admitting to caring, admitting to wanting to be together will mean accepting the past and moving into the future on perhaps a bit of a different pathway than either of them envisioned for their life. Are they both finally at a point in their life to do this? Alex's arrival in Pelican Point starts a time of healing for both of them, to take meaning from loss and over come it. Can they over come the past and move on together?
No summary I do of Pelican Point can possibly do it justice!! Donna Kauffman gives us a very real, touching romance in Pelican Point that at times will make you laugh out loud…and other times tear up. Both main characters are strong, relatable people who have suffered tragedy in their pasts and are struggling to move on. I loved Logan and Alex, I felt like I knew them both very well by the time I was finished Pelican Point. Donna really brings them and the town of Pelican Point to life with humor, love, friendship, and a touch of magic (I loved that part!).
Logan's uncle offers up some great advice, not only for Logan and Alex, but advice that can be applied to real life to…to take what you can from life. Don't push away what you can have because you're scared of losing it. More wisdom that can be taken from Pelican Point is that in life you don't always have to follow the same path because that is what you're used to…sometimes there are new paths that will take you places you never dared dream of!
Donna kept the story of Alex and Logan flowing smoothly from page to page and I stayed up way too late reading it! But it was so worth it! 🙂 Donna kept me immersed in their story and made me feel like I was right there with them. I love her descriptions of the light house and the ocean too…living close to the ocean I can assure you they are accurate and will make you hear the waves and smell the salt water.
Pelican Point is a 5 star romance that I would highly recommend to any romance reader looking for a great setting, lots of feeling, and characters you will want to be friends with!
Book Info:

HJ Recommends
Published October 29th 2013 by Kensington
Blueberry Cove, Maine, is as small-town as small towns get. More than a little quirky, it has sheltered generations of families. But there's always room for a new face…
Fixing things has always been Alex McFarland's greatest gift and keenest pleasure. But with her own life thoroughly broken, she's signed on to renovate the dilapidated Pelican Point lighthouse, hoping to reconnect with herself. The last thing she expects is to find herself falling in love–with the glorious coastline, with age-old secrets and welcome-home smiles…with rugged Logan McCrae, the man she just might be able to build new hopes on.
DIY is so much better with two…
Includes an easy do-it-yourself restoration project!