In Spoonful of Christmas (The Cupcake Diaries #4) by Darlene Panzera, The Creative Cupcake shop is hopping busy this season, keeping owners Andi, Kim and Rachel on their toes. Things are moving along nicely, both professionally and personally, until the craziness of the holiday settles in. A business offer rattles the tight-knit group and then they have to contend with a local Grinch who is intent on ruining their Christmas.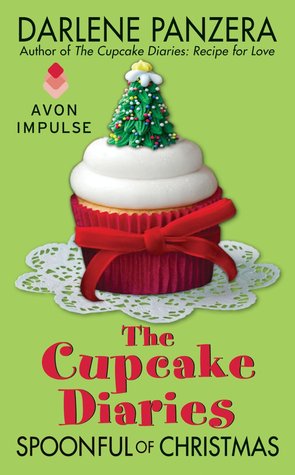 "Sure," Guy agreed. "What am I looking for?"
Andi smiled. "Anyone who wants to steal Christmas."
The ladies at the shop rally to make this a special holiday for family, friends, and especially for those in need. Although they each will have choices to make regarding their business and personal lives this Christmas that could change their futures drastically, they are determined to make the best of this season one way or another.
"We all mess up…every single one of us. But Christmas is about giving and forgiving, and the chance to make relationships right."
Spoonful of Christmas is a sweet, traditional holiday novella full of love and Holiday spirit.
"I'd say this is the best Christmas ever. And love…is the best gift."
"A gift we can use all year long."
This is the fourth story in The Cupcake Diaries written by Darlene Panzera. Admittedly, I haven't read the other three so I jumped into this blind. But the plotline held my interest and I loved that there was a bit of a mystery to solve in the midst of all the love and cheer.
I don't have the previous stories to compare this one to, however, I did enjoy the characters and the situations they find themselves in throughout the novella. Being a short story, it did make the story quick and compact and unfortunately it made the dialogue seem more structured than having a more realistic flow to it.
Overall, I enjoyed Spoonful of Christmas. If you're looking for a sweet Holiday story that will leave you warm & fuzzy, I would suggest giving this one a try.
Book Info:

Published November 26th 2013 by Avon Impulse | Series: Cupcake Diaries #4
For fans of Debbie Macomber comes Spoonful of Christmas, the fourth installment in the popular Cupcake Diaries series.
Andi, Rachel, and Kim each have their own reasons for wanting this Christmas at Creative Cupcakes to be special.
Andi is scared that Jake's job offer with another newspaper will move them to a different state.
Rachel, set to marry Mike on Christmas Eve, is afraid her cousin Stacey will ruin the wedding.
Kim fears she'll never get a ring and Nathaniel will leave her after the holidays are over.
What they didn't count on was having a modern-day Grinch try to steal Christmas away from them. Can they unmask the culprit before it's too late … or will this be a Christmas to remember for all the wrong reasons?