In People We Meet On Vacation Emily Henry, When Poppy Wright first met Alex Nilsen in college, she would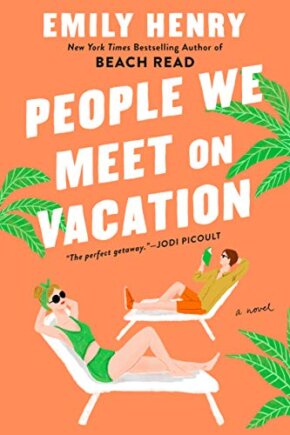 never have dreamed that he would become her best friend, considering they're totally opposite in so many ways. But somehow after a surprise road trip back to their hometown, a bond was formed that withstood time and distance. It was especially put to the test when Poppy moved to NYC and Alex stayed close to home. But thanks to technology and their one week every summer traveling together, it works. Well, until a trip to Croatia pushes their friendship too far, leaving them at odds for the first time in a decade.

'For two years, I've wanted to ask Alex to give our friendship another shot, and I've been so afraid of the answer that I've never gotten the question out.'
Surely two years is long enough to let the dust settle so that Poppy can reach out to Alex and try to rekindle their (platonic) relationship. It starts off awkward at first, but when they plan a new trip to the west coast, she hopes they're on the right foot again. Poppy is also hoping a change of scenery will help her stalled career as a travel journalist. If she and Alex can recapture their connection, that bond that means everything to them, then maybe she'll feel more at ease in her own skin again. But when everything goes wrong on their trip to Cali, it definitely puts Poppy and Alex's patience–and their emotions–to the test. She can only hope that when it's all said and done, they won't be parting ways hurt and lost this time.
"I'll never belong anywhere like I belong with you. No matter what I'm feeling, I want you next to me. You're home to me, Alex. And I think I'm that for you too."
Be ready to be swept away to locations across the globe and to root on an opposites-attract couple who start as the best of friends–and who become so very much more–in Emily Henry's People We Meet on Vacation.
'There might be love and attraction and history, but that just means there's more to lose if we try to take this friendship into a place it doesn't belong.'
I had a whole lot of fun reading Emily Henry's latest novel. It bounced back and forth between the present day, with Poppy and Alex having not seen or talked to each other for about two years, to flashback chapters starting with how they met at college twelve years ago and worked its way forward from there. I got a little lost in the timeline a couple of times and had to backtrack to the beginning of the chapter. But overall I enjoyed the way Emily Henry showed the tension and attraction between Alex and Poppy that built oh so slowly over the years. And I think it's something that was realistic. They didn't want to ruin the friendship that meant everything to them. So of course neither wanted to act on it. Instead, they ignored their chemistry and kept it as platonic as possible.
Poppy and Alex were truly opposites in almost every way, so their conversations were ridiculously fun. That is one of the areas in which Emily Henry always shines, in my humble opinion, with the dialogue she creates. Poppy was outspoken and loved to wear clothes as colorful as her namesake. She grew up in a lively household, the youngest who always felt like she didn't belong at school. Alex was a rather introverted, very studious and intelligent man–a beta hero, swoon!–who was the eldest sibling that kept the family running. But somehow Poppy and Alex balanced each other out. There was always something to debate or talk about considering their differing opinions and experiences which was highly entertaining.
I do have to admit, though, that up until about the last quarter of the book, I wasn't wholly rooting for Poppy. I liked her. It's just that she came across as a wee bit on the selfish side. Like she wanted Alex to constantly be there for her and talk about her personal/professional problems but she didn't always seem to support him. Once their entire history was laid out for us and Poppy had some epiphanies, it was much easier to cheer her and Alex on.
People We Meet on Vacation will be a wonderfully quirky beach read for romance fans. With its slow burn, friends to lovers storyline and hilarious characters you'll want to hang out with, Emily Henry charmed me all over again with her witty writing voice.
QOTD: Poppy and Alex vacationed in some amazing locations. Once travel is back to normal, are there any destinations you plan on visiting?

Book Info:

Publication: May 11, 2021 | by Berkley Books |
Two best friends. Ten summer trips. One last chance to fall in love.
From the New York Times bestselling author of Beach Read, a sparkling new novel that will leave you with the warm, hazy afterglow usually reserved for the best vacations.
Poppy and Alex. Alex and Poppy. They have nothing in common. She's a wild child; he wears khakis. She has insatiable wanderlust; he prefers to stay home with a book. And somehow, ever since a fateful car share home from college many years ago, they are the very best of friends. For most of the year they live far apart—she's in New York City, and he's in their small hometown—but every summer, for a decade, they have taken one glorious week of vacation together.
Until two years ago, when they ruined everything. They haven't spoken since.
Poppy has everything she should want, but she's stuck in a rut. When someone asks when she was last truly happy, she knows, without a doubt, it was on that ill-fated, final trip with Alex. And so, she decides to convince her best friend to take one more vacation together—lay everything on the table, make it all right. Miraculously, he agrees.
Now she has a week to fix everything. If only she can get around the one big truth that has always stood quietly in the middle of their seemingly perfect relationship. What could possibly go wrong?