Unsuspecting Target by Juno Rushdan finds former lovers Jagger Carr and Wendy Haas reunited after he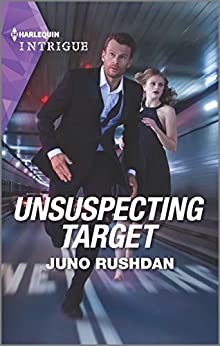 discovers a cartel has put a hit out on her. Ten years earlier he had saved her life and ended up in jail for it, and he once again steps up to the plate. Wendy doesn't know why a cartel would want her dead, and while she's wary of Jagger's ties to them, she has no choice but to trust him. Along the way they discover their feelings for each other never went away, but with the cartel hot on their tail, they fear a second chance might not be in the cards.
This book grabbed my attention from the first page and held it to the last. It's non-stop action as the pair race to discover why Wendy is being targeted and to find a way to end the threat from the cartel. The action does overshadow the romance, but readers are given enough background information about their past for their romance to be believable. Both characters are strong and determined to get to the bottom of everything. I appreciated that Wendy remained a calm and steady presence during everything. She never loses her cool, choosing to put her trust in Jagger instead.
This is the fifth book in the series but it can be read as a standalone. If you have read other books in the series, Wendy is the sister of US Marshal Dutch Haas from High-Priority Asset, the third book in the series.
A gripping story with an interesting storyline and a second chance romance, Unsuspecting Target is a thrill ride that shouldn't be missed by fans of romantic suspense.
QOTD: What do you enjoy most about romantic suspense novels?
Book Info:

Publication: May 25, 2021 | Harlequin Intrigue | Hard Core Justice #5
Ten years ago, Jagger Carr saved Wendy Haas's life. Circumstances pulled them apart soon after, but when an assassin targets her at a Manhattan charity gala, Wendy has no choice but to trust Jagger, who's now deep undercover. Not even their warring feelings can stop desire from reigniting. But the vengeful cartel gunning for them could destroy any hope for a second chance.