Piece of My Heart by Nicole Jacquelyn: Sarai is focused and barely has time to keep on top of school,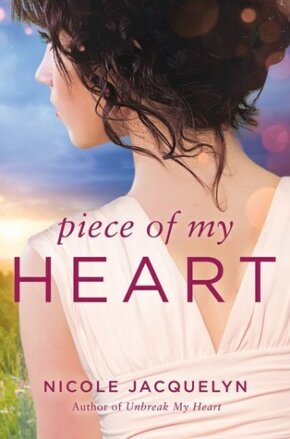 work, and hanging out with her best friend. She's on path to graduate from her program and she has her life planned out. She's smart, funny, and a planner.
While Alex enjoys being in the military, he misses his family in Oregon. He knows he'll move back home and work in the family business one day, but he's content with his life as it is. He's funny, charming, and firmly believes that the best things in life aren't planned.
The last thing Alex wants to do is go on a blind date to help out one of his fellow soldiers. But he goes anyway and finds himself tongue-tied by his date. He's completely thrown off his game and he's surprised when she doesn't fall at his feet. Alex knows that there is something he wants to explore with Sarai, and his patience and persistence pays off.
"You don't give up, do you?"
"Not usually," I confessed as she started climbing again. "Especially when I feel strongly about something."
"You don't even know me," she scoffed good-naturedly.
"I want to get to know you," I replied. "I like what I've seen, and I want to get to know you better."
Sarai couldn't plan for Alex or her feelings for him. He makes it easy for her and he goes out of his way to spend whatever time together they can manage. They are different in some ways, but they also just fit together. Before long, they get married and have to face new challenges. Their marriage is tested in their differences and how their own baggage has shaped their responses to the unexpected in life.
 "I don't buy magazines at the airport. They're too expensive. I always bring a book."
"Okay, then," I said, walking backward. "You can bring a book and I'll buy a magazine at the airport."
"No you won't," she called back. "I'll buy it!"
"Good." I clapped my hands together. "Then it's all worked out."
Piece of My Heart is all about family, friendship, love, loss, and heartbreak. Nicole Jacquelyn delivered another heartrending story with romance, banter, acceptance, and finding your way home. Ms. Jacquelyn developed characters you would like to meet and included Alex's entertaining family. Piece of My Heart can be read as a standalone in the Fostering Love series. Fans of K.A. Tucker and Abby Jimenez will enjoy Piece of My Heart.
Book Info:

Publication: Published July 23rd 2019 | Forever | Fostering Love #4
From the author of Unbreak My Heart comes a heart-wrenching story about a young married couple's struggle to find their way back to each other after an unbearable loss threatens to tear them apart. Nicole Jacquelyn delivers a novel that will break your heart…in all the best ways.
Alex Evans is cool. Collected. Charismatic as hell. But when he meets Sarai Levy, all that chill goes right out the door. An Israeli graduate student, Sarai's far too busy with school to date. But she gives Alex a chance anyway, and after a few whirlwind months, they're getting married. They've heard all the reasons why it's too soon, but Alex and Sarai are madly in love and determined to make it work . . . until a devastating tragedy strikes and their perfect world comes crashing down.
Sarai, who always has a plan, suddenly has no blueprint for handling a staggering loss. As she pulls away from Alex and withdraws from her life, he's struggling to be the man she needs. Their relationship is fraying at the seams, and if Alex and Sarai don't find a way to trust each other with their most painful truths, their heartache could shatter their fairytale romance.