Pipe Dreams by Sarina Bowen: Mike always loved hockey and knew he wanted to play professionally. He loves playing for Brooklyn, and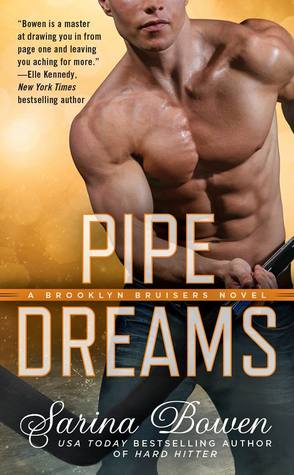 is still at the top of his game as a goalie. He's sexy, loyal, and a great dad. But his personal life has certainly been complicated over the last few years, and even more so now with a teenaged daughter.
Lauren grew up loving hockey and ended up working for the Brooklyn Bruisers while going to school. She is smart, dedicated, organized, and determined to get her degree. But things changed for her about two years ago and she took a transfer to work for the team owner at his corporate offices. She found that she loves the challenges presented and the opportunities for international travel.
Two years ago, Lauren thought that her dreams of being with Mike had finally come true, only to be shocked when Mike abruptly ended their relationship. In the time since they broke up, Lauren has avoided all things hockey and most especially hockey players. Due to unforeseen circumstances, Lauren is forced to step back in to help run the team at the end of the season. Her plan to continue avoiding Mike quickly goes up in smoke.
"Just don't, okay?" she demanded instead.
"Don't what?" his husky voice asked.
Oh, for Christ's sake. She turned to face him, her blood pressure doubling. "Don't be nice. Don't talk to me. Don't look at me. Just stay between the pipes and guard the damn net. And leave me the hell alone."
Mike and Lauren had great chemistry then and it's still around now. While Lauren hates that he can still affect her so deeply, she also can't quite resist temptation. She wants to move on with her life, but Mike is just as determined to get back what he gave up with her. He is certainly persistent and persuasive when it comes to going after what he wants.
"Not happening," she point out. "The bus boards in"-she checked the clock-"an hour. And I don't want to be everyone's gossip nugget this morning."
He pulled a face. "There are women who'd sleep with me for the bragging rights. And the only one I want in my bed doesn't want anyone to know."
Pipe Dreams is an entertaining, heartwarming, and sexy second chance romance. Sarina Bowen wrote a unique story about their previous relationship and included some good surprises. Ms. Bowen continued to build on a great cast of characters in this series with the introduction of Mike's family. Pipe Dreams can be read as a standalone in the Brooklyn Bruisers series. Fans of Sawyer Bennett and Kate Meader will enjoy Pipe Dreams.

Book Info:


Publication: Expected publication: May 2nd 2017 | Berkley Books | Brooklyn Bruisers #3
A goalie has to trust his instincts, even when taking a shot to the heart…
Mike Beacon is a champion at defending the net, but off the ice, he's not so lucky. A widower and a single father, he's never forgotten Lauren Williams, the ex who gave him the best year of his life. When Lauren reappears in the Bruisers office during the playoffs, Beacon sees his chance to make things right.
Lauren hates that she's forced to travel with the team she used to work for and the man who broke her heart. There's still undeniable sexual tension running between her and Mike, but she won't go down that road again. She's focused on her plans for the future—she doesn't need a man to make her dreams of motherhood come true.
Lauren plays her best defensive game, but she's no match for the dark-eyed goalie. When the field of play moves to Florida, things heat up on the beach.
One of Mike's biggest fans doesn't approve—his teenage daughter. But a true competitor knows not to waste the perfect shot at love.