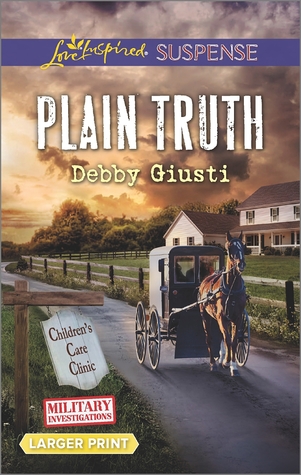 Plain Truth by Debby Giusti: I was so excited to see a new book from Debby Giusti in this series! The Military Investigations series brings together two populations I enjoy reading about- the military, whom I deeply respect for their service to our country, and the Plain people, who I also deeply respect and admire for their values of family and community. In Plain Truth, we meet Zach and Ella, who meet each other when Zach is called to investigate a horrific attack on Ella in the children's clinic she runs. Both Ella and the parent of two of her patients are attacked and left for dead.
Zach and his military colleagues, as well as the police, work against the clock over a period of days and weeks, to find who is targeting Ella and perhaps Mary Kate. This is amidst continued attempts on Ella's life. Meanwhile, Ella is working diligently to treat Mary Kate's twins who have an inherited disorder. Ella's late husband had pioneered research on this disorder, which leads to speculation that the person targeting Ella has some very dark motives. Lots of twists and turns!
It is very special to see how the Amish and Military community come together, respect each other and work together. Especially considering the Amish are pacifists and do not join the military themselves. There is a real spirit of cooperation in this series amongst these groups. I recommend this book and this series to readers who enjoy reading about military life, and to those who enjoy reading about the Amish.

Book Info:

 September 6, 2016 | Love Inspired | Military Investigations
When widowed doctor Ella Jacobsen is attacked and left for dead in her children's clinic, the peace she's found in Georgia's Amish country is shattered. Someone is after something in her clinic and wants her out of the way…but what are they looking for? Ella knows only that her life is in the hands of army special agent Zach Swain. Zach can't resist the vulnerable but headstrong Ella, who stares down danger to care for the people she loves. With one look, the loner soldier goes from investigator to protector. To save Ella, he must uncover the secrets that swirl around the idyllic community. And he needs to do it fast, because Ella is running out of time.