Play Thing by Nicola Marsh is a steamy workplace romance and the third story in her Hot Sydney Nights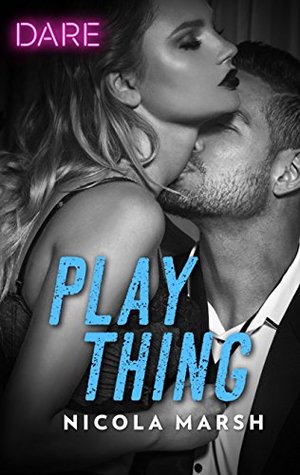 series. CEO Alex Bronson is working on a company revamp when he decides to visit the Sydney office of his accounting firm The Number Makers, with a goal to promote one of his employees, Charlotte Baxter. When he arrives he also checks on some of his property, including a warehouse that is being vacated by a current tenant. There he meets an attractive woman packing up a stock of sex toys and lingerie and indulges in a mutually satisfying steamy interlude. It's only when they are cleaning up that he realizes why the woman seemed vaguely familiar – she's one of his Sydney office employees!
Charlotte can't believe that the one time she indulges in a moment of indiscretion, it's with her long distance boss who is in town for a month. She'd been packing up her aunt's online store supplies when the sexy, handsome man had shown up at the warehouse and she'd not known who he was until encountering him at the office the next day. Alex has a heads up having recognized a particular phrase she'd used after their hot sex but Charlotte had been taken unawares. Not to be outdone, she can act professional and get their relationship back on its expected track. But there's no hiding the chemistry between them and when Alex proposes a short termed fling while he's in town, promising to keep business and pleasure separate, Charlotte agrees. Of course it's a recipe for trouble as they get more attached. But with Charlotte happy with her current career and location and Alex a traveler by nature and not looking for commitment, can they find a way to a long term relationship?
The meet-cute in this one is a fun start to a sexy, somewhat predictable office romance. While Alex had seen pictures of Charlotte, she was admittedly dressed quite differently when they met in person (having tried on some of her aunt's sales products) and as she had only ever heard his voice on the phone, it's a little flimsy but acceptable lead in to the hottest sex Charlotte's ever had. When Alex wants to pursue something more once they have adjusted to their new reality at work, she figures there is no harm in pursuing something with the caveat that Alex clearly keep her work for him, and her performance reviews, separate. Because he only plans to be in town for a month, it's not a stretch to think they could have a fling with a definite end date.
Both of them have issues in their pasts that have contributed to where they are now when it comes to partnerships. Alex's estrangement from his parents came from his father's problems that led to suicide, and the knowledge that long term relationships can mean heartbreak. It's also given him a negative view of home. Charlotte has parents more interested in the common good than their own, globetrotting missionaries whom she has little contact with as an adult. It makes her long for stability, while Alex likes his freedom. Finding a compromise will be key to their happiness. Their sex life is fun and addictive, but their emotional connection is what leads to their happy ever after. It's an enjoyable, sexy and entertaining romance.
Book Info:

Publication: Oct 01, 2018 | Harlequin Dare | Hot Sydney Nights #3
She's been playing it safe… But now it's time for a new game plan!
Prim and proper Charlotte Baxter lets her naughty side run wild when she meets a hot stranger one night. She's riding on a high – until she discovers the mystery man is also her demanding new boss! With her career her top priority, an affair with Alex Bronson is forbidden…so why is she ready to risk it all for another scorching encounter?