Playing Dirty by Lauren Hawkeye is the start of a steamy set of stories involving four sisters – Amy, Jo,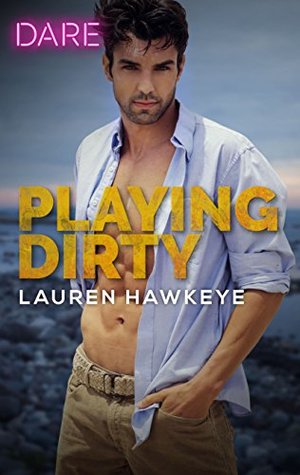 Meg and Beth. If you're a fan of Louisa May Alcott's Little Women, you'll recognize the names as the four sisters of her famous story about family and love relationships. Consider this an erotic version of the same, updated for today's romance reader. This particular story is Beth's turn at the wheel, a mechanic by trade who finds herself playing dirty with a man who brings his car in for service and ends up getting a piece of her heart in return.
Beth Marchande runs a garage off the side of the house she lives in with her three sisters and her mother. It's in an older part of the south side of Boston and gets a variety of customers, though none quite as wealthy as the man who pulls up in his Porsche needing service. He's definitely not her type – a suit-wearing, arrogant businessman but she'll take his money just like anyone else. And when she runs into him at a bar later that evening near the motel he's staying at while his car is being repaired, she can't deny the sizzle of attraction between them.
Ford Lassiter runs a chain of hotels and likes his women to be more the society type than the down home, tattooed, mouthy chick who has his pride and joy in her garage. Yet she calls to that hidden side of him, the one that wants to take control in the bedroom with a little dominance and submission kink. It's a side he's ashamed of and used to hiding, but with her, all bets are off. Some steamy sex ensues but it doesn't lead to anything more because their priorities and lifestyles are just too far apart.
But five years later things have changed for them substantially. Beth has dealt with a serious illness and Ford has encountered a change of fortune, leading him back to her neck of town and a different outlook on his future. The sparks between them are still there and easy to fire up again. This time around, will they find the common ground that will give them a chance at a future together?
I really enjoyed this story! It's a great introduction to the Marchande sisters and their individual personalities, as well as their close family relationships. They are all open about sex, so when Beth has her night out with Ford her sisters are eager to quiz her on the occasion. They are also a great support to her during her illness.
It's an interesting plot device to have Ford be the one who feels guilt over his dominant sexual preferences as most often in a dominance/submission romance I've found it to be the woman who is described as feeling ashamed of wanting to be controlled by a man, especially if her work involves a position of power. Beth has no qualms about liking things a little rough, and is quite willing to share that with Ford. Unfortunately Ford's father was the kind of man to sleep around and who also engaged in BDSM practices with his partners. Ford doesn't want to be seen as anything like his father, including having a preference for the same kink. He's used to stifling that part of his personality until Beth makes him see that there is nothing to be ashamed of. Their love scenes are definitely on the hot and steamy side!
It's clear when they first meet that they are of opposite worlds with different priorities. The ensuing time between changes things for them both, gives them new perspective, and when they encounter each other again, gives them the maturity to move forward into an actual relationship. There are some emotional scenes in the second half of the story as Beth's illness takes a more prominent role. Trust is needed on both sides and it's eventually given, leading to their happy ending. I'm looking forward to reading about Beth's sisters and hope that there will be stories for them all!

Book Info:

Publication: May 21, 2018 | Harlequin Dare |
His guiltiest pleasure
She's wild, wicked…and pure, sexy trouble
It takes a nanosecond for Lizzie Marchande to see that Ford Lassiter worships rules and order. Yet behind his leonine eyes this gorgeous but tightly wound man is hiding something much deeper than lust. He's hiding a deliciously raw, hungry need to take control while Lizzie relinquishes hers. But for this wild, fierce woman there'll be no holding back his heart…no matter the cost.