In Those Other Women by Nicola Moriarty, Poppy has known for years that she doesn't want to have kids.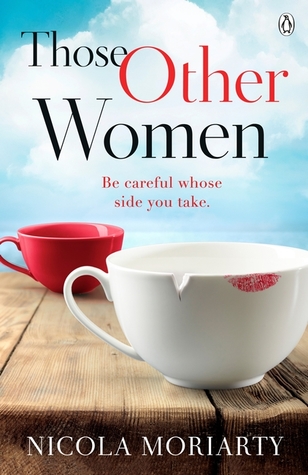 Not that she begrudges anyone who does. But she's been content to focus on her husband and her career–something they both agreed on from the get go. So when her husband and best friend side-swipe her and announce they are a couple in love, Poppy spirals into an emotional bottomless pit. There to bring her out of her anger and grief is her coworker Annalise, who is full of life and sass. Together they become a dynamic duo who have being child free in common. As they watch the special treatment the women they work with get because of having children: later start times, early leave, holiday time off, etc, Annalise and Poppy decide to form an online group to see if there are any other women who are–and plan to remain–child free who would like a place to vent and socialize.
'The group was taking on a life of its own.'
The group Nonmums Online in Parramatta, or NOP, gains popularity quickly. At first it's a great place to discuss local interests in their area and double-standards when it comes to mums vs nonmums. But their rival group MOP (Mums Online in Parramatta) somehow catch wind of what Poppy and Annalise created, right down to some of the exact posts they shared. The only thing they can think to explain it is that there is an imposter in their midst. While the terrific twosome are sifting through their group members to find the mole, one of their coworkers Frankie is dealing with her own drama at work and at home. The daily grind of getting the kids off to school, the errands, figuring out after school care, not to mention the long hours at work leave her exhausted. Frankie would gladly trade lives with her childless workmates for just one day. But even the members on MOP aren't really helping alleviate her stress these days. All she knows is something's gotta give.
'There was absolutely nothing wrong with NOP. Nothing wrong with what they were doing or saying. But how did yet another woman know about them? And why did these women all think NOP was so awful?'
The gloves came off, the insults started flying and it was mums vs nonmums in this intimate look into the lives of three very different, opinionated women. Poignant, fun and yet heartrending, Nicola Moriarty nailed it with the thoughts and emotions of her relatable characters.
"Why do women do this?" she asked. "Why do we tear each other down? Why don't we support one another?"
I thought the premise behind Those Other Women was a pretty intriguing one, seeing how an online group of mothers and one of non-mothers could coexist without any social backlash. Turns out…didn't work so well. At least in the case of Poppy, Annalise and Frankie. I think we all know someone who–or even we ourselves–have been in online communities that ended up warring with a rival group. It can be a dramafest with lots of badmouthing and hurt feelings as a result. Things were even a wee bit more intense in this book as Moriarty centered the two groups of women in the same suburb of Sydney, Australia. Meaning they could be neighbors, coworkers or even casual acquaintances without even realizing. And that came into play big time when the nonmums found out there was a mole in their group.
It was honestly a bit tough for me to watch the women tear each other down instead of building each other up. But sadly it was rather realistic the way those scenes were written. I did like getting to know Annalise, Poppy and Frankie, learning about their backgrounds and what led them to make the decisions they did. Some parts of their histories were quite bleak–especially in Annalise's case–however it made this a story with lots of layers and emotional depth. I think what I probably enjoyed most was how Moriarty only gave out just so much information and details to keep readers guessing who the duplicitous one(s) in the group were and what was truly going on with a few characters. I had fun trying to figure it all out. And I did. But it wasn't easy. (lol)
Those Other Women showed how in an age of social media, online groups can enrage and enlighten in equal parts. Told with her clear, honest writing voice, Nicola Moriarty certainly has a thought-provoking novel on her hands here.

Book Info:

Publication: Published May 3rd 2018 | Penguin |
From the author of The Fifth Letter comes a controversial and darkly comic story about the frustrations of being a childless woman in the modern baby-obsessed world . . .
Poppy's world has been tipped sideways: the husband who never wanted children has betrayed her with her broody best friend.
At least Annalise is on her side. Her new friend is determined to celebrate their freedom from kids, so together they create a Facebook group to meet up with like-minded women, and perhaps vent just a little about smug mummies' privileges at work.
Meanwhile their colleague Frankie would love a night out, away from her darlings – she's not had one this decade and she's heartily sick of being judged by women at the office as well as stay-at-home mums.
Then Poppy and Annalise's group takes on a life of its own and frustrated members start confronting mums like Frankie in the real world. Cafés become battlegrounds, playgrounds become warzones and offices have never been so divided.
A rivalry that was once harmless fun is spiralling out of control.
Because one of their members is a wolf in sheep's clothing. And she has an agenda of her own . . .
Praise for The Fifth Letter:
'Will grab readers and refuse to let go. An author to watch' Booklist
'With secrets and intrigue, this is a compulsive read' Sun on Sunday
'Intrigue, hatred and accusations – phew, it kept me guessing to the end' Sun