Fighting for Love by Kelly Elliott: Finn is enjoying the life as a single firefighter. He loves his job and his family, but he could do without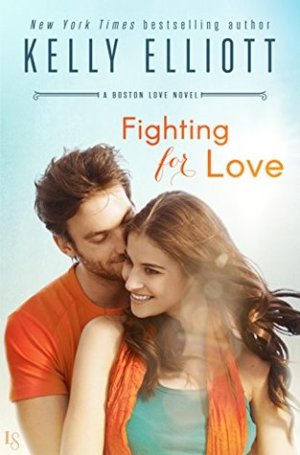 the pressure to settle down and have kids. He's sexy, charming, and devoted to his family.
Rory has become a workaholic ever since joining her mom's law firm. She's smart and very dedicated to doing her best for her clients, but it's hard to constantly fight the assumption that she gets preferential treatment. Rory has been all work and no play, which pleases her overprotective father as he's not quite ready to let his little girl go.
Finn and Rory are happy enough, until Rory shows up at a union meeting that changes everything. Both experience an instant connection and Finn is definitely intrigued. He knows that Rory is different and he is more than willing to take a chance by dating the one woman who is off-limits.
"So I'm going to guess you've gotten on the wrong side of my father. Since he already forbids me to date firefighters, imagine his surprise if he finds out I've kissed a firefighter I'm attracted to who's in his company. One he already had a beef with."
I grinned from ear to ear. "You're attracted to me?"
Finn persistently pursues Rory and eventually wears her down. Finn shows a surprisingly romantic side and a willingness to call in favors to ensure that they have dates to remember. But finding time in their hectic schedules and hiding their relationship and growing feelings from Rory's parents quickly becomes challenging.
Placing my hand over my heart, I pretended to gasp. "Why, Rory Adams, are you using me for my extra Red Sox ticket?"
She didn't even flinch. "Yes. And dinner. You also promised me dinner."
Fighting for Love has romance, angst, drama, banter, and plenty of heat. Kelly Elliot created great chemistry and banter between the main characters. Ms. Elliot developed interested secondary characters in their family and friends. Fighting for Love can be read as a standalone book in the Boston Love series. Fans of Jamie Beck, Allyson Charles, and Annie Kelly will enjoy Fighting for Love.
Book Info:

Publication: Expected publication: April 4th 2017 | Loveswept | Boston Love #2
A larger-than-life firefighter inspires a career-driven woman to live in the moment—and trust in the power of love—in this flirty, emotional novel from the New York Times bestselling author of Searching for Harmony.
Finn Ward has two passions: being a firefighter and being single. Although his parents are constantly nagging him to settle down, Finn just wants to enjoy himself while he's young. Then, at a union meeting, he meets a gorgeous lawyer with a dazzling smile—and suddenly, settling down doesn't sound so bad.
Rory Adams is fresh out of law school and looking to make a name for herself at her mother's firm. She doesn't have time for silly games anymore. But when she catches the eye of a dashing fireman who makes her body tingle from across the room, something instantly ignites between them. The only problem? Her father is Finn's boss.
Their relationship turns both of their lives upside-down. Rory tames Finn's wild ways, while he shows her that life can't be all work and no play. But it'll take some serious determination to keep their love secret—and real courage to admit the truth.
Praise for Kelly Elliott's Searching for Harmony
"Searching for Harmony is a heartwarming story of a woman who suffers an unthinkable tragedy—and finds an unimaginable love. It's a real charmer!"—USA Today bestselling author Tina Wainscott
Includes an excerpt from another Loveswept title.