I really enjoyed Playing the Part by Robin Covington. This novel sizzles with true love, hot sex and passion. I am a sucker for a happy ending and the epilogue completely blew me away.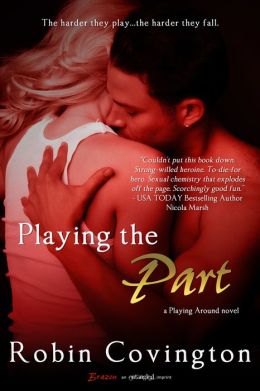 Best selling romance author Piper James is finally seeing the light at the end of the tunnel. Her ex-fiance was a very popular actor who publicly cheated on her with her best friend. Needless to say they broke up and she went a little cuckoo. She raked him over the coals in the press, which ended up backfiring on her. They became the new "it" couple and she became just the crazy, jilted fiance. Consequently, her book sales tanked and her publicist is thinking of dropping her.
As luck would have it, one of her books is being made into a movie and the film's production company needs her on the set. She now has the chance to jump-start her career by teaching Hollywood playboy and leading man Mick Blackwell how to act like he is in love. It is Piper's job to help him relate to and identify with the character she created.
Gorgeous Mick Blackwell is an action movie superstar attempting to spread his wings in a dramatic role. Unfortunately, love scenes are not his forte and he is having trouble creating emotion with his co-star. Mick has been acting since childhood, following in his father's footsteps. He is the apple of the public's eye because he is a publicity magnet and hound.
When Piper and Mick meet there is instant chemistry. Piper is extremely cautious about getting involved with another actor, and as such imposes some rules that will prevent any heartbreak during their fling. The no sleepover rule is quite comical. Their indulgence is turning into much more and both are falling in love with each other. Each sexual encounter gets hotter and hotter. It is unfortunate that Mick's manager is a shyster and creates unbelievable havoc in their lives. Luckily true love supersedes even the worst circumstances.
A romance writer authoring a book about a romance writer is a very original concept. The sex scenes are viciously hot and passionate. If you are looking for a quick read that will cause immediate panting, then this is the book for you.
Book Info

Publisher: Entangled: Brazen (June 10, 2013)
After publicly self-destructing over a heartbreak a year ago, bestselling romance writer Piper James is now making nice with her publisher by agreeing to teach Hollywood's favorite action star how to act like he's in love. Only playboy Mick Blackwell has no clue what love looks like.
When a seductive heat ignites between Piper and Mick, she jumps at the chance for a bit of fun between the sheets, but with two stipulatons: she's kept out of the public eye and things end when she returns to New York. Only Mick keeps changing the rules on her. Tempted by America's favorite bad boy, Piper is wondering how far she's willing to bend…