In Ask Me for More by Elise K. Ackers, Olivia Law returns home for her best friend's wedding only she is a different person from the girl that left with her parents' years ago. But that may not matter to the people in town who have a longer memory and an even bigger anger that they hold against a child that didn't know better.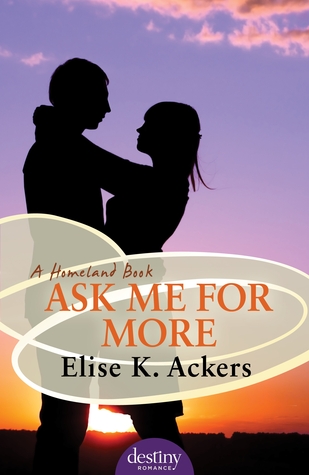 Cal O'Hara remembers Liv or Lawless as they knew her in town from when they were kids. He knows that she was a handful and a troublemaker but that does not take away from the fun that she had with his sister Sam and all the other kids in town. Only now the kids that looked up to her and admired her, hate her and judge her the same way that their parents did. Now he is waiting for her to arrive on the train to help Sam plan and set a date for her wedding.
Now Liv is a sexy grown up and Cal can't keep his mind or his eyes from wandering to her. Liv is only there temporarily and if he acts on his needs and wants he may not be able to get his heart back when she leaves town again. But when faced with the actions he used to think as kind and thoughtful in a close community are going to be put into perspective when he sees firsthand how the people mistreat and ignore Liv right in front of his eyes, something that he cannot ignore no matter what.
Liv has build a strong wall around her feelings and heart in order to not be hurt again, but underneath she is still vulnerable and people hurt her without giving it a second thought. Now she has to decide if she wants to pursue and act on the attraction she's had on Cal since she was young or if to keep everything guarded in order to not get hurt.
This book kept me hooked with all the conflict, sexual tension and things that were going on with everyone in town. I now know that this is the second book in a series and I have to look for it and get it. I want to know how Sam got hooked up with her now fiancé/husband and how they changed the way the town people thought of him. And will definitely look forward to the next book to be released in this series. 😉
If you want a sweet, different and entertaining read, don't miss Ask Me for More by Elise K. Ackers.
Book Info:

July 10th 2013 by Penguin Group Australia
When Olivia Law returns home for her best friend's wedding, it stirs up a lot of unexpected memories – not all of them good ones. Liv has a history here she'd prefer to forget, and a life in the city she wants to get back to. She certainly doesn't expect to find herself attracted to the bride's elder brother, Cal O'Hara.
Cal remembers Liv as the trouble making friend of his little sister. He doesn't expect to be faced with an incredibly sexy grown-up version. But Cal has been hurt in the past and is not prepared to risk his heart again. Certainly not for someone who is leaving town in a few days.
Nothing is certain in this delicious tale about escaping the past. Ask Me for More is a poignant story about finding love where you least expect it.