In Playing the Field (Diamonds and Dugouts #2) by Jennifer Seasons, Sonny Miller and her ten year old son Charlie have been a team his whole life. Being a single mom is tough but it's better than bringing a man into her life only to have him break her, or worse yet, her son's heart. She won't put him through the heartache and abandonment she dealt with from her parents while growing up. So that's why Sonny has built up a wall around her heart and has focused instead on making a strong, safe home for them on her farm in Colorado. Her organic goat cheese business is taking off now and Charlie is doing well with his type 1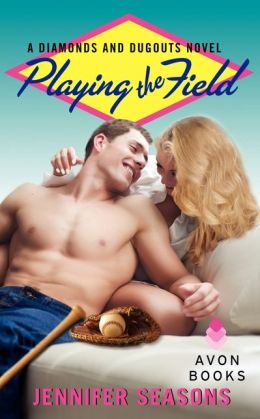 diabetes so it seems things are finally on an even keel. When she takes Charlie to a charity event featuring his favorite pro baseball player, JP Trudeau, the fact that it is on a Saturday should have tipped her off that it would be a weird day. She has had bad luck on Saturdays her whole life…therefore she usually stays home and cleans that day. But Charlie absolutely loves baseball and she can't deny him the opportunity. Imagine Sonny's surprise when she feels an instant connection as she first looks JP in the eyes. He makes it clear that he feels the same pull between them. She has no idea what a gorgeous, famous ball player would see in her and waves it off as him just being nice to her where she's a guest at the event.
"But the moment he touched her all she wanted was more of him. His laugh. His big heart and even bigger smile. Even his inflated confidence and swagger. What the hell was she going to do?"
Fate pushes them together yet again when Sonny and Charlie win a raffle to have dinner with JP. Her expectations of how he will act are way off the mark. She thought he would be full of himself and not pay attention to her or her son, but she has to admit he's down to earth and listens intently to everything Charlie rambles on about. Even when they are interrupted by fans during their dinner, JP takes time to give them his complete attention and seems grateful for their interest in him. Sure he seems very self assured and can be a bit cocky, but Sonny can see he has a good heart despite his fame. He scores major points with her when he gets Charlie a temporary job as batboy for his team. She worries that her son is becoming too attached to JP though and wonders what will happen if things don't work out between them. She's never had a man treat her so well or has felt so taken care of before. If only he wasn't in the public spotlight, she might feel more comfortable with the situation. When JP begins to make decisions before consulting her, Sonny takes offense and feels her tight family unit being threatened. So she backs off and holds JP at arms length. She refuses to let him explain until he makes a grand gesture of his feelings for her and her son. Is it too little, too late? Or should she take the plunge and commit to a relationship with him?
"The sound of her voice surprised him. She had one of those Katherine Heigel voices that was all smoke and sex. It sent a shiver through his belly and had him thinking naughty thoughts. If it was this husky now, what would it be like during a hot romp in the sack?
He caught her eye and their gazes connected, held. Something sparked, but before he could explore it she broke contact and looked away, her face a little flushed."
Colorado Rush shortstop JP Trudeau is enjoying his time meeting fans at their local diabetes charity event when he spots a breathtaking woman in the crowd. He can feel the electricity in the air between them when they lock eyes. Sonny's ten year old son Charlie turns out to be a huge fan of his and JP uses that to his advantage to chat with her. He makes it as clear as he can to Sonny with people milling around, that he is very interested in her. The opportunity for JP to have dinner with Sonny and Charlie proves to be a turning point for him. He seriously enjoys the time he spends with her son and can see himself as part of their family unit. Even though he's a pro baseball player and is only in his mid-twenties, he knows he wants a relationship like his parents have: they're best friends who can talk about anything, who challenge each other, yet at the end of the day still have a spark they can't hide. Sonny is obviously interested based on her reaction to their stolen kisses, but she's had bad luck in previous relationships, so JP has to earn her trust and help her feel comfortable with the decision to pursue their feelings. Unfortunately his fame interferes, along with his ego, and he inadvertently pushes Sonny away. He has to find a way to earn back her trust. He simply can no longer imagine his life without her and Charlie in it.
This is the first book I have read by Jennifer Seasons, but it definitely won't be the last. I thoroughly enjoyed her writing style and found it engaging and very quick to read. Sonny was absolutely charming…she was selfless, witty, sarcastic, strong and very loving even though she was leery of bringing a man into her and Charlie's lives. JP was also a great character. I mean, a pro baseball player with a heart of gold who has a sexy swagger but is completely genuine? Come on! Even though he made a few mistakes along the way, he completely redeemed himself. (Be ready to both laugh and shed a tear when you read that part.) Definitely recommended for all you contemporary romance lovers out there.
Book Info
Publisher: Avon Impulse (July 23, 2013)
The sexy baseball players of Jennifer Seasons' Diamonds and Dugouts series are back with the story of a single mom, a hot rookie, and a second chance at love.
Single mother Sonny Miller has spent years avoiding love. A rotten childhood and an even rottener ex-boyfriend left her determined to protect her son—and herself—against the risks of romance. That is, until hotshot ballplayer JP Trudeau swaggers into her carefully constructed life, all sin-with-me eyes and irresistible grin. Sonny can't help but feel drawn to the sexy, confident man, even as every fiber of her being tells her to keep running the bases . . .
JP is known for being fast on his feet, not fast with his heart. But meeting Sonny and her boy sparks something in him—something he's never felt before, not from all the cleat- chasers in the major leagues. Sonny may be hell-bent on keeping him at arm's length no matter what, but this rookie has a plan. To get the girl, he must step up to the plate and convince her to take another chance on love . . . before this game gets rained out.