Hot Summer Nights anthology is a perfect summer read! In fact I read most of this while lying on the beach…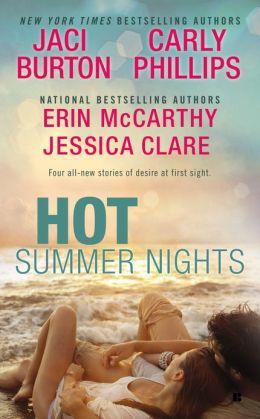 First up is Hope Smolders by Jaci Burton. Jane is a divorced, single woman who has put her own life on hold after her ex-husband deserted her and their two children. She works 2 jobs to make ends meet and has no social life…but she is happy. Or is she? When she keeps running into her ex-husband's good friend Luke, she soon figures out it's no coincidence…Will is definitely interested in her! But Jane has self esteem and body images. In her mind, what hot single guy would be interested in a single mother with two young children and her post baby body? As Jane and Will start seeing more and more of each other, she starts to feel things in places that have long been dormant! While they are definitely compatible in bed and have a lot of fun together as a couple and with Jane's children, how can she trust another man, let alone expect him to accept her whole package? As they get more and more comfortable in a relationship together, Will is determined to help Jane see he can be that man. Can Jane believe in him and in them or will she let her insecurities rule and push Will away until he's tired of trying?
I really liked Luke! He came across as just a really great guy, not to mention he takes great care of his body!! He really wants to be with Jane and her children, he wants the whole package, if only Jane could see that! Jane has focused on the kids for so long, it was great to see her finally start to focus on herself too! The only frustrating thing with Jane was the constant mention of the whole 10 pounds she feels she has to lose before she can feel attractive, as a busy mother working 2 jobs if that's the only extra she's carrying I'm jealous! I was really pulling for Luke and her to be a couple, hoping she'd believe in the happiness and love.
In Perfect Stranger by Carly Phillips we get Alexa and Luke's story. Alexa is a Doctor working hard at the same hospital her father runs and is a Doctor in. She has always been living up to his expectations, and she is all about work. When she takes a night off and meets some friends for drinks, her unexpected uninhibited side comes out to play when she meets the stranger named Luke. Luke is only in Serendipity for a brief time to help out his friend Sawyer, he never expected to meet someone like Alexa! Alexa does something even more out of character when she takes Luke home with her and they spend a very fun night together!
Luke is intrigued by Alexa, and while he is in town they end up spending some fun time together. Neither of them was looking for a relationship, but sometimes when fate knocks you have to answer…But soon Luke will be leaving and Alexa will be back to working herself to the bone to try to make her father happy. Luke is good for Alexa, he really makes her think about what she wants out of life, not what her father wants…what makes her happy. Will thinking and dreaming be all Alexa does though? Or does she have it in her to take a stand and lead her life how she wants to lead it? Do her and Luke have to end when he leaves?
Perfect Stranger was a perfect short story. Carly gives us a couple who weren't looking for anything, yet they find each other. Luke is so good for Alexa, and I loved watching them grow together in such a short time. Luke encouraged Alexa to follow her dreams, now it's up to her if she will and if they include him.
Legend of Jane by Jessica Clare is a real modern day romance! Luanne, aka Jane the blogger, has just recently moved in with her sister at her B & B. Due to a lot of unfortunate circumstances Luanne is out of a job and money…so she's taken up blogging. With the money she gets from advertisers on her site, she manages to get by. Even if it means sometimes her blog posts involve her doing somethings possibly illegal. When one of those activities gets her a ride with Officer Hank Sharp (aka Officer Hotness), Luanne can't be all that sorry, especially when they end up spending more time together! Luanne is fun and spontaneous compared to Hank's law abiding ways…something that might not be a good mix no matter how much they steam together. Hank won't ask Jane to give up her work, but he can't be with her if she's going to continue skirting the law for her blog. So no matter how much he likes her, he might have to give up her. With Luanne's act that finally breaks the straw, she's going to have to decide what's more important to her – her blog or Hank.
I really liked Hank and Luanne. I don't think Hank knew what to do with Luanne half the time! He obviously really likes her, but he's really uncomfortable with some of what she's doing and planning to do for her blog. He is a dedicated police officer who would love to dedicate himself to Luanne also, but it might not be a relationship that will work for him. Luanne is fun but doesn't always think things through…she might have to start thinking before acting a bit more before she loses Hank for good. Hank and Luanne will be a great couple if they can find a way to make it work!
Finally we read about Chelsea in Ice Princess by Erin McCarthy. Chelsea is on a ski vacation with two other couples. She was supposed to be part of a couple too, but when they broke things off she decides to take the vacation anyway. When Brody rescues her stuck hanging from her balcony in the cold, she finds out that her vacation might be a lot more fun than she'd first anticipated! Soon Chelsea and Brody are spending not only the night together in Lake Placid, but the days too. Chelsea has no regrets about her vacation fling…even if she does start to feel that Brody could be more to her than that. But soon they will go their separate ways…will they find their way back together somehow? As Chelsea told Brody, she's not looking for a Knight in Shining Armour…she's looking for the beast. She might have found both!
Chelsea and Brody are both fun people without a lot of baggage dragging them down. I loved this about them, that they were able to move any past issues and relationships and move forward with an open mind and heart.
Hot Summer Nights brings us 4 hot romances from some of our favorite authors that will leave you smiling and your heart feeling happy!
Book Info

Publisher: Berkley (July 2, 2013)
Passions ignite in these all-new stories from four bestselling masters of contemporary romance…
In Jaci Burton's "Hope Smolders," struggling divorcee Jane has put her personal life on hold to raise her kids—until she runs into Luke, her ex's former best friend, who convinces her it's time to start having fun again.
Carly Phillips takes you back to the town of Serendipity, where overworked Alexa has an instant connection with a sinfully sexy football star on the dance floor. A one-night stand evolves into multiple nights when Luke decides to teach the good doctor about his own brand of fun. But when it's time for him to leave town, will these "Perfect Strangers" be able to say goodbye for good?
In Jessica Clare's "Legend of Jane," an intrepid Bloggess catches the eye of local law enforcement when she gets caught trespassing. Luckily, Luanne wouldn't mind getting handcuffed by Officer Hotness…
Single girl Chelsea is tired of feeling like the fifth wheel on her weekend jaunt to Lake Placid, until she gets stuck out in the cold and finds a muscular knight in shining armor to warm her up—in Erin McCarthy's "Ice Princess."