Playing To Win by Taryn Leigh Taylor: Sometimes playing to win has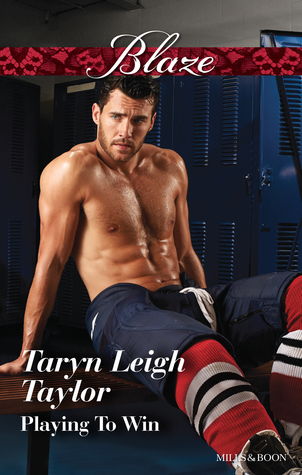 nothing to do with the game in front of you, sometimes its more about the game behind the scenes.
Holly Evans had spent most of her life trying to win her father's love. After her mom passed he became a different person so she learned to love what he loved, sports. She became really good at it and knowledgeable so it wasn't a far jump to become an internet sensation helping women understand hockey. What was a little hard for her was to play down her real knowledge and play the ditz.
Luke Maguire hated the press. He had ever since that day three years ago when his life changed drastically. So he was not a big fan when this attractive reporter was there just before the playoffs to ask him questions like boxers or briefs. However he was responsible for setting an example and one he would set with his head held high.
What starts out as chemistry blows into flames, but when you add to that a torn piece of paper that might spell downfall. Well you better watch the wind.
Oh wow! Playing To Win from Ms. Taylor has everything from hot men, sexy ladies, sports, an amazing plot and even some great romance. From the moment you pick this one up you won't be able to put it down. Be prepared to fall in love, to want to slug and to relate to these characters as well as hope that Ms. Taylor will take some time to continue this hockey teams stories. Strap on your skates and be ready for a little read about what truly matters in life.
Book Info:

Publication: January 1st 2016 | Harlequin Blaze |
Playing to win means playing dirty…
Holly Evans is intelligent, educated and crazy about sports — so how did she end up prancing about in a miniskirt and teasing her hair like some broadcasting bimbo? Of course, since she's already iced her journalistic integrity, Holly might as well indulge in a little fangirl lust for the ripped captain of Portland's hockey team.
Luke Maguire sees right through Holly's bunny disguise, and he's ready to pull her into the locker room and strip it all off. Then Holly discovers someone on the team is profiting from a little over/under betting. Suddenly her lusting for Luke is going head-to-head with her reporting instincts. And if she's caught offside, there's no telling what the penalty will be…