In The Best of Me by Elisabeth Barrett, Jane is dealing with a lot: a new job,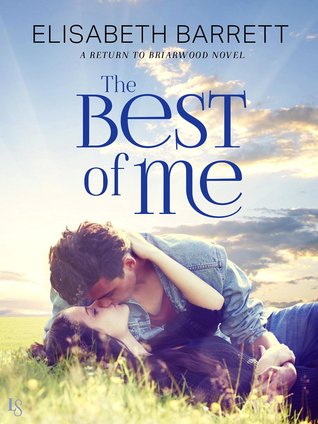 being a single mother to Andy, having her abusive ex trying to get custody of Andy, and harassment from the said ex. The last thing she wanted or expected was to become attracted to the co-owner of Briarwood.
After the death of his father, Preston spiraled downhill but has spent the past year trying to put his life back together. You can't help but feel for him, discovering his father wasn't the man he thought he was, the man he admired. But you also have to admire his determination to pick himself up and straighten himself out. While he could have continued on his downward spiral he decided not to follow in his father's footsteps, instead concentrating on rebuilding his career.
Preston was very patient with Jane, never rushing her into anything because he knew she wasn't ready. He was great with Andy, taking the time to teach him how to golf and talking with him about his art. He genuinely cared about both of them.
Jane puts Andy before herself all the time. While it's an admirable trait, it was also frustrating at times because she didn't take other people's feelings, mainly Preston's, into consideration. Instead of confiding in him, she would keep things from him and hurt his feelings. And as much as she claimed she trusted Preston, by hiding things she was actually saying she didn't.
"I get that you put Andy first. But you don't consider your own needs," he said bluntly. "You didn't then and you don't now. And you really don't care about mine. Instead of telling me about the photos and giving us a chance to talk it through, you just made your own decision without trusting me at all."
This is the second book in the Return to Briarwood series, and it can be read as a stand alone. Jane was first introduced in book one, Once and Again, and several of the characters from that book also make an appearance in this one. While there's a brief reference to Jake's troubles starting up Briarwood that occurred in book one, you won't feel like you're missing anything.
While I enjoyed the book, we are left with some unanswered questions. One example is that a portion of the book deals with the fact that construction at Briarwood is halted because someone claimed to see a rare bird in the pond that's in the golf course. There's a public meeting about it and everything, but then it's like the subject just disappears. It felt like it was just thrown in there to create a little bit of drama, but it seemed unnecessary to include it in the storyline without having a conclusion to it.
If you read and enjoyed the first book in the series, or you enjoy books featuring a single mother learning to love and trust again, you might enjoy The Best of Me.

Book Info:

Publication: January 5, 2016 | Loveswept | Return to Briarwood #2
Jane Pringle never meant to fall for her boss. After landing a job as a pastry chef at the exclusive Briarwood Golf and Yacht Club in Eastbridge, Connecticut, she just wants to keep her son in a good school district and find some peace and quiet, far away from her manipulative ex-husband. But when Briarwood's charismatic co-owner takes an interest in her, Jane's best-laid plans go awry . . . in the sweetest way possible.
Rich and handsome, the grandson of one of the most powerful men in New York City, Preston North hasn't lived quite the charmed life everyone believes. His family taught him everything he needs to know about betrayal—and Press wants no more of it. What he wants is Jane. The gorgeous single mom is selfless and kind, plus she's got a backbone. To win her trust, Press just needs to shake off his playboy reputation.
They've each been burned in the past. But now Press and Jane will have to choose between letting their fears get the best of them . . . or breaking free and following their hearts.