Playing with Danger by Joya Ryan is the second book in the Desire Bay series, but can be read as a standalone. This is a quick read that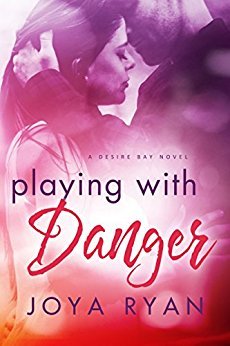 flows easily and has some very entertaining characters.
Grant Laythem is a millionaire who wants his wife. He met Hannah on a two-week cruise and even though their relationship was quick, it's not something he's willing to give up. Hannah has other ideas, though.
Hannah Hastings hasn't had the easiest life. Her father is the town drunk. They live in a small
town in Oregon, where she manages the local bar. She has plans to buy the bar, but first she needs to come up with more money. The last thing she needs is Grant blackmailing her into staying his wife.
Hannah is sassy and exhibits bratty behavior, but it's clear that her feelings are strong for Grant, it just takes a while for her to open up. As for Grant, he has his own issues. He just lost his father, the man who was always there for him and is set to inherit his million-dollar company. But his mother won't stop until she has half the money, even though it doesn't belong to her and she damn well doesn't deserve it. But above all else, Grant is sweet, charming, and manages to keep Hannah off guard.
"You're beautiful. Straight to your soul kind of beauty. So powerful I can see it alive in your eyes."
It's pretty clear that Grant and Hannah have a connection, that neither one of them is ready to let go of. It doesn't take long before they become desperate for each other and their feelings become deeper than either one of them expected. But they both come from different worlds and when secrets are revealed, it might be just the thing to end it all.
I liked both characters. Hannah was independent and tough. She also takes care of her dad, even though he doesn't necessarily deserve it. Grant loves Hannah despite her bratty behavior and refuses to give up on her. He also blends in with the town very well and puts his money to good use. Together, they were an entertaining couple. Overall, a good read.

Book Info:

Publication: October 10th 2017 | Montlake Romance | Desire Bay #2
They married on a whim, and then she disappeared from his life. Now he's determined to find her and convince her to make their marriage work . . .
It's all happening for Hannah Hastings. After ten years of slinging drinks, she's about to go from bartender to bar owner. But before she can sign her name to the deed, a blast from her not-so-distant past comes blowing into her hometown of Yachats, Oregon. It's Grant Laythem, the man it seems she can't resist. And he's come looking for his runaway bride . . .
Set to inherit a multi-million-dollar company, Grant is used to women wanting to get him into bed—and get into his bank account. But not Hannah. Bedded, wedded, and abandoned after a passionate two-week fling, he never even had the chance to tell her who he really was. All he knows is that she wanted him, no strings attached. And now that he's had a taste of something real, he's not about to let it slip away.
Can Grant convince her to give their marriage a shot? Or will Hannah continue to run from the only love she's ever known?