In Shining Through by Elizabeth Harmon, American ice skater Tabitha Turner, also known as the Ice Queen, is determined that she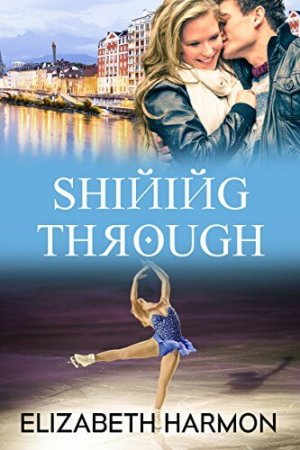 will make it to the Winter Games, after missing her shot at making the team four years earlier. This is her last year skating, and she feels if she doesn't win, she's letting down her mom and sister, who have sacrificed a lot for her skating.
Daniil Andreev is the bad boy of the Russian figure skating. Even the Russian Federation won't fund his skating anymore, after many brushes with the law. In order to make a break from his father, he will need the Federation to fund his skating. He's determined to stay on the straight and narrow, win the Winter Games, and get his spot back. When he meets Tabitha he knows he should stay away, but he find himself drawn to her. Traveling around the world for competitions, the pair finds ways to get together As they fall in love, will they also be able to accomplish their dreams?
I'll admit I'm not a figure skating fan, so there were some skating terms used that I wasn't sure what they meant. However, I did learn more about the sport through this book, and how much hard work and travel goes into it.
Out of the characters, I felt most for Daniil. With two parents who couldn't care less about him, an ex-coach who hates him and wants to prevent him from receiving Federation funding, and a penchant for getting into trouble, he seems to have the most to lose. He needed someone to look past his bad boy persona and know the person he truly was. Tabitha was that person for him, and I was glad she decided to give him a chance.
I thought Tabitha puts a little too much pressure on herself. She believes it's because of her that her mother never returned to her hometown, or why her sister can't pick a career or find love. She believes if she wins gold, she'll bring in endorsements to help her mother return home and to fund her sister's education. Yes, they did have to make sacrifices for her career over the years, but she didn't have to put all the blame on her own shoulders. Her mother knew what she would be giving up and the sacrifices she would have to make, and she made the choice to support her.
I found it interesting to see the behind-the-scenes action during performances, including the interactions the other skaters had with one another and how the pressure affected the way they treated one another.
This is the fourth book in the series, but it can be read as a standalone. I haven't read any of the previous books in the series but had no problem following along with the characters or the storyline.
Shining Through is a story about overcoming past mistakes in order to discover who they truly were and what would make them happy. I would recommend this book to those who enjoy figure skating, as well as those who enjoy the bad boy/good girl trope.

Book Info:

Publication: October 2, 2017 | Elizabeth Harmon | Red Hot Russians #4
The Biggest Season of her Career…
America's sweetheart Tabitha Turner is on track to win figure-skating gold in the Winter Games. Her family has sacrificed everything for her career, but the pressure is taking its toll. Burned out and living a lie, can Tabitha let off a little steam without melting the ice?
The Last Chance of His…
Russia's bad boy of skating Daniil Andreev is determined to prove the toughest thing about him is his competitive fight. When Tabitha tempts him to help her take a secret walk on the wild side, he gives her a taste of the freedom she craves, never expecting that one unforgettable night could turn into something more.
Two Hearts on Thin Ice…
Chicago, Vancouver, Paris… the international figure skating season unfolds. Tabitha and Daniil compete and fall in love, but as the pressure mounts in a make-or-break season, can they set aside their painful pasts and spiral into a shining future together… or will their dreams shatter like thin ice?