In Playing with Fire by L.J. Shen, Going to Sheridan University, not far from her childhood home where she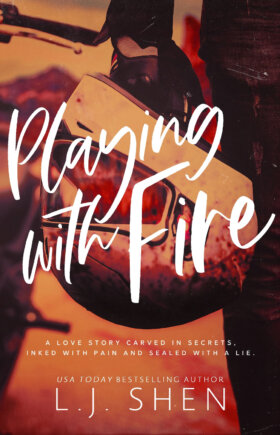 still lives with her grandmother, was supposed to be a chance for Grace Shaw to prove she was capable of being back in the public eye. Once popular and fairly carefree, a horrible event changed almost everything about her life. But Grace won't let it stop her from getting her degree. Although, when illegal fighter and all-around bad boy West St. Claire puts her in his sights, she's not sure it's a good thing, as it has the potential to destroy everything she's worked hard to rebuild. But with a relationship as volatile as theirs, all Grace can do is hold on and see where things go between them–and hope the whole time that they don't crash and burn.
'He was the most complex man I'd ever met–sweet, caring, kind, responsible. But also violent, aggressive, offhanded, and cruel.'
West traveled across the US from Maine to Texas to get away from his tragic past. The only one at Sheridan U who knows his secrets is his best friend East Braun. A guy who always has his back. But even East doesn't realize just how much damage the past few years has done to West's already tenuous grasp on things. And the one girl who could understand exactly what he's been through is sassy, snippy, and so gorgeous that he can't stand it. Grace just might be the one person who can make West whole again. But at what cost to them both?
"You're the most beautiful girl I've ever seen in my entire life. When I look at you, I see a fighter. I see resilience and strength and defiance that no one can touch. You take my breath away…"
Playing With Fire was the kind of angsty, deeply emotional new adult romance that holds me captive until the final page. The harrowing background of both main characters alone would have done it. But then L.J. Shen threw in their explosive chemistry and that was it–I was done for.
'I felt like I was my old self again, and I didn't know why, but I thought he felt the same about himself, too.
That for some reason, we brought out in each other the previous people that we were and missed terribly.'
I do have to warn that Playing With Fire might not be for everyone. It's new adult, so it's a college age romance. There were also mentions of suicidal thoughts. But it is actually West's and Grace's gritty pasts (which were somewhat graphically detailed) that will wreak havoc on your heart and that will stick with you long after you finish the book. I was gutted on both their behalves. And I thought Shen was clever in not only how the details were parceled out throughout the story, but also how the events in their past caused Grace and West to both have feelings of guilt and grief–albeit in different ways.
I do think West will be a hard sell to some readers. He came across as rude, crude at times, and uncaring. Yes, he definitely acted like a jerk. Even to Grace sometimes. And he knew better. But finding out about what was pushing West to behave in such a way and how it related to his treatment of others, particularly Grace, will break your heart. I did love the glimpses of the *real* West underneath the gruff fighter exterior. And that was who Grace (and I) fell for. The kind, funny, gentleman he was before life fell apart.
As for Grace. Wow. Such courage–and what dedication to her beloved grandmomma. I won't give spoilers as to what she went through over the past four years or so but will say it caused damage that completely changed Grace's life. She was a bit of a contradiction sometimes, which befuddled West. She had such strength but was vulnerable. She had a sassy mouth but wouldn't stand up for herself at college or in town with the locals. And Grace was trying to do right for her ailing grandmomma but wouldn't ask for help. She learned a lot of important lessons in this story. And I think readers, just like me, will cheer her on every step of the way.
L.J. Shen's newest addictive standalone about redemption and the healing power of love will surely grab hold of readers and not let up until this couple's memorable, utterly lovely HEA.
Book Info:

Publication: Published September 15th 2020 | L.J. Shen |
A broken boy on the path to destruction.
A scarred girl without direction.
A love story carved in secrets, inked with pain and sealed with a lie.
Grace Shaw and West St. Claire are arctic opposites.
She is the strange girl from the food truck.
He is the mysterious underground fighter who stormed into her sleepy Texan college town on his motorcycle one day, and has been wreaking havoc since.
She is invisible to the world.
He is the town's beloved bad boy.
She is a reject.
He is trouble.
When West thrusts himself into Grace's quiet life, she scrambles to figure out if he is her happily-ever-after or tragic ending.
But the harder she pushes him away, the more he pulls her out of her shell.
Grace doesn't know much about anything beyond her town's limits, but she does know this:
She is falling in love with the hottest guy in Sheridan U.
And when you play with fire—you ought to get burned.