Montana Wishes by Amy Vastine is the second book in the Harlequin series The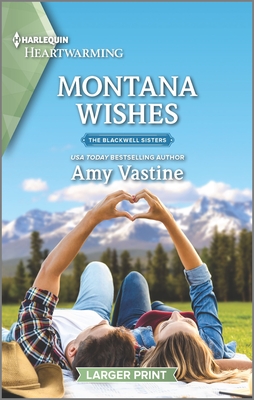 Blackwell Sisters. A heartwarming, emotion-packed story about love, family and friends.
Amanda Harrison is not happy to find out that she is actually a Blackwell. Not happy at all. She even had a DNA test done and hoped it proved differently. But she is, indeed, a Blackwell. When her twin sister Lily ran off on her wedding day and left the birth certificate naming Thomas Blackwell as their father Amanda was quite upset. Now Lily is living on the Blackwell Ranch in Montana and engaged to one of the ranch hands. Amanda is determined to talk Lily into returning to San Diego when she arrives at the ranch with Lily's belongings. Accompanying Amanda on the road trip to Montana is her best friend since they were teens, newly engaged Blake Collins. Amanda and Blake are such close friends they do everything together, even run their pet box business as partners. That is they do everything together except when Blake is dating. And this time Blake's dating has led to his engagement. This is breaking Amanda's heart. Amanda loves Blake but there's a reason she can't let him know that. She wants Blake to be happy with a wife and children as he constantly talks about. This is going to be a difficult change for her, Lily in Montana and Blake engaged.
Blake Collins just got engaged to Nadia who he has been dating for two months. He's sure he can be happy with Nadia even though the love of his life is really Amanda Harrison. That dream ended when Amanda told him she just wanted to be friends with him. His goal now is to see Amanda and Nadia become good friends because he wants both of them in his life. He'd do anything for Amanda as proven by the fact he agreed to drive her to the Blackwell Ranch with her sister Lily's belongings. Their stay there is lots of fun with picnics, spending time in the petting zoo and hatchet throwing games at Battle Axes in town. Oh and there's the "to die for" Chocolate Junkies, chocolate donuts they share each morning having breakfast at the Maple Bear Bakery. When Nadia shows up at the ranch unexpectedly there is tension. Amanda and Nadia are not doing so well at becoming good friends. What to do? What to do?
This story if full of fun, laughter, best friends and tough emotional decision. Author Amy Vastine tackles the tough emotional subject of infertility and how the condition affects peoples' lives in this book. Amanda suffers with endometriosis and is faced with possibly needing to have a hysterectomy at the young age of twenty-eight. Her recently deceased mother was the only one who knew about her condition. Facing this alone is very tough for Amanda. How she spills the beans on this issue was handled so well by Ms. Vastine. I have enjoyed getting to know Amy Vastine's writing style in this story.
Book Info:

Publication: September 8th 2020 | Harlequin Heartwarming | The Blackwell Sisters #2
Caught between friendship
and falling in love…
Amanda Harrison's life is changing way too fast. Discovering that she's really one of the Montana Blackwells was hard enough. Now Blake Collins—her best friend and the guy Amanda's secretly in love with—is engaged to someone else. But Montana cowboy country has a way of claiming its own. And being a Blackwell means Amanda must learn how to fight for herself…and for the love she deserves.
USA TODAY Bestselling Author