In Playing with Words (Boggy Creek Valley #2) by Kelly Elliott, New York Times best-selling suspense author Hudson Higgins is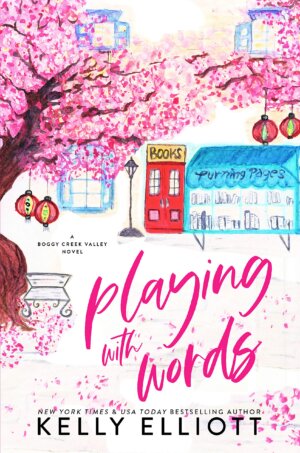 in a bit of a bind when he finds his way back to Boggy Creek, New Hampshire, leaving the bustle of NYC behind. The slower pace and nostalgic feel is bound to help him finish his new book–which is unfortunately creeping closer to its deadline. Hudson doesn't need anything to distract him. But from the second he walks into Turning Pages bookstore and meets the delightful owner, Greer Larson, he's done for. She's everything he'd ever want in a woman: intelligent, well-read, caring, smoking hot…but doesn't know it, and she puts work and family on equal pedestals. Too bad Hudson's only in town for a few weeks.
'My heart was still beating out of control from the way Greer had stumbled on her words and smiled at me. My God, I had never seen a more beautiful woman or smile.'
Greer can't really remember a time when she didn't want to own the bookstore on Main in her little hometown. And everything she's done has been towards achieving that goal. That's quite possibly why–okay, it's *exactly* why–Greer has no social life to speak of. That all changes when Hudson comes into Turning Pages. Handsome, kind, and oh so sexy, the author didn't run for the hills when she stuck her foot in her mouth…repeatedly…each and every time she tried to speak in his presence. Instead, Hudson seemed to enjoy their conversations. As Greer shows him around the town he still remembers from his childhood visits, she falls more and more for him. But when her beloved bookstore might be taken away from her, Greer and Hudson each try with all their might to find a way to keep both the store and their relationship from ending.
'The feeling of Hudson holding me nearly brought tears to my eyes. I had never felt so…safe. So incredibly happy. Like I was where I was meant to be.'
Playing with Words had quite possibly the most adorably perfect couple in Kelly Elliott's books yet: a kind, strong bookstore owner and a compassionate, sexy suspense author. Instant attraction led to a slow burn romance that was destined to overcome the odds.
'I had traveled to a lot of places around the world, but this little corner of New Hampshire had stolen my heart. Or maybe it was the woman standing next to me who made it all seem utterly beautiful.'
I could *not* wait to get Greer's story in Playing with Words. Just the fact that she owned her own bookstore (can you imagine??) was interesting enough. Then there's how Greer tied in to Willa and Aiden's story in book one, The Butterfly Effect, so we caught glimpses of who she was and of her good standing in town. FYI: The books can be read as standalones, but where there's a circle of friends and locals the Boggy Creek Valley series follows, I think you'll get more out of it by starting with book one.
As I've come to expect from Kelly Elliott's work, Hudson and Greer made me feel ALL the feels as they fell head over heels in love. I absolutely loved that poor Greer (bless her heart) had a tendency to get tongue tied when Hudson was around–and that he found it charming as all get-out. I laughed until I had tears in my eyes over some of those playful scenes. Their relationship, though, was one that started off with a sweet, thoughtful friendship, and which then became filled with a fiery passion that took them by surprise.
In my humble opinion, I think Elliott shines when it comes to how she captures those emotions when her characters–certainly Greer and Hudson–fall in love. The highs and the lows. The exhilaration and the challenges they face. It's not forced in any way, but is shown in a genuine light that helps readers feel like they truly get to follow along on the couple's (sometimes rocky) path. That was definitely how Hudson and Greer's lovely story worked for me. And I couldn't have enjoyed watching them find their way more than I did here. Sigh…
Cheers to being back in Boggy Creek–and to that darling book cover! Kelly Elliott never ceases to amaze me with her heartfelt stories, her powerful messages of love, family, and community, and with the myriad emotions she continuously brings out with her words.
QOTD: Have you read any of Kelly Elliott's books? (She has quite a backlist!) If so, what's your favorite so far?
Book Info:

Publication: Published August 3rd 2021 | K. Elliott Enterprises, INC | Boggy Creek Valley #2
Hudson Higgins had fond memories of Boggy Creek from his childhood. So what better place to escape New York City for a few weeks to finish up a book that was nearing deadline than the small town in New Hampshire his parents visited nearly every summer.
What he couldn't have known was how his life would be turned upside down when he walked into Greer Larson's bookstore his first day in town.
Greer Larson lived a quiet life in her hometown of Boggy Creek. She had worked nearly her whole adult life to make her dreams of owning her bookstore come true—and now, Turning Pages was her everything. She lived, eat, and breathed the success of owning her own business.
That is, until a stranger came to town and showed Greer that there was more to life than simply working. A friendship between Greer and Hudson quickly formed over their love of books and the outdoors.
When Greer's bookstore is threatened, Hudson soon realizes he hasn't simply fallen for the charm of Boggy Creek and Greer, he'd fallen in love…with both the town, and the woman who stole his heart from the moment she first smiled at him.
Playing with Words is book two in the Boggy Creek Valley series and is a stand alone novel.