Good Twin Gone Country by Jessica Lemmon: Hallie Banks had been satisfied being the twin in the background to her country music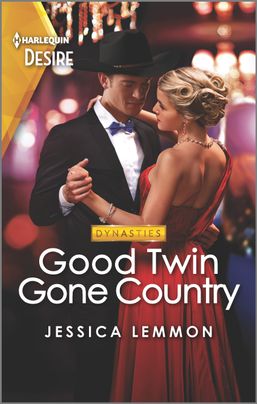 superstar twin sister Hannah. Hallie had been quite content being Hannah's career manager. But now seemed like a good time to shake things up a bit. Who better to shake things up with, break a few rules with, than Gavin Sutherland.So they made a deal. Gavin would teach Hallie how to break a few rules and have fun and Hallie would work with Gavin's interior designer to decorate Gavin's new house. Hallie discovered that breaking rules could indeed be lots of fun, even more fun breaking rules with Gavin. Even when all that fun ended up with big changes nine months down the road.
Gavin Sutherland is the attorney in the family music business. That kept him plenty busy so there really was no time for a relationship. When Gavin mistook Hallie Banks for her twin sister Hannah one night that was the beginning of the changes in his life. Gavin knew Hallie was special but after spending time with her after their agreement that made Gavin realize just how special Hallie was. Breaking rules with her was more than fun. Gavin's attraction to Hallie kept growing the more time he spent with her. Maybe he needed to move on from his playboy bachelor life and make Hallie the special lady in his life.
I really enjoyed this story. Hallie and Gavin seemed to be an unlikely couple but they meshed so well together. They both needed to open their eyes to the potential of their relationship. Spending time with Hallie, Gavin and the rest of the couples in this series has been very entertaining. This whole country music series has been a delightful read.
Book Info:

Publication: July 27th 2021 | Harlequin Desire | Dynasties: Beaumont Bay #4
What happens when a good girl asks a bad boy to help her break all the rules?
"Please show me how to break a few rules…"
Hallie Banks is done being "the good twin," living in her superstar sister's shadow. But what does she know about letting loose and having fun? She needs a teacher, and fortunately, gorgeous bachelor bad boy Gavin Sutherland is up for the job. Soon Hallie bursts out of her comfort zone and loses herself to Gavin's sizzling touch. But living on the edge always comes with a cost…and now the moment of reckoning is nine months away! (less)