Pleasing Her Prince by Kylie King: Sophia and Ryker have some history. They went to middle and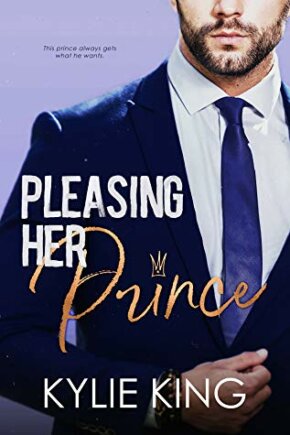 high school together and Ryker teased her all the time. Even all these years later, Sophia can't stand Ryker or how he treated her. Their situations have changed dramatically since Ryker is now the prince and Sophia is jobless. She might still hate him, but she's willing to apply for the job take care of his four Great Danes.
Ryker had an unusual path to becoming a prince and he's not exactly your typical royal. He's sexy, smart, and very used to getting his way at this point. Reconnecting with Sophia is both like everything he expected and not at all like he expected. She may love his dogs, but she's less welcoming to him.
"I saw your name on the list of candidates and I was surprised. I knew I wanted to talk to you again, and I felt this would be the best way."
"By hiring me to be your dog sitter?" I retort.
"Exactly so."
Taking the job is a lot more than she bargained for. There are incredible perks, but she also is living in the palace with the guy she can't forget or move past. The sparks fly as Ryker works to get on her good side and show her he deserves a chance. He's persistent, charming, and willing to pull out the stops.
"Look at me," he commands, and I don't know what it is about his command, but I look up. Maybe it's the deepness of it-the sultriness that causes me to look up. "We are not over, Sophia."
"Yes, we are," I say.
"Why?"
Pleasing Her Prince is a quick and sexy read. Kylie King provides humor, banter, and heat in this royal enemies to lovers romance. Ms. King developed entertaining characters and provides some surprises along the way. Fans of Penelope Bloom and Mira Lyn Kelly will enjoy Pleasing Her Prince.
Book Info:

Publication: Published August 6th 2019 | Kylie King |
A standalone enemies-to-lovers royal romance!
Ryker Hale is a freaking jerk.
He became the prince of my country overnight and I have resented him for years ever since. Everyone admires him and treats him like a god, and yet all I can remember when I see him are all those times he made fun of and teased me in high school.
It's just my luck that the prince has a job opening for a dog-sitter position right around the time I lose my job. I need money soon and with nothing to lose, of course I apply, despite how slim my chances are or how much I loathe the idea of working for him.
The last thing I expect is to get hired, though. I also don't expect for Prince Ryker to remember me at all, yet he does.
And now that he remembers, he wants me all to himself.
A part of me wants to punch him right in the face for how he treated me, but I'm starting to realize he's a changed man, and with each passing day I spend in his palace, I feel myself falling for him more and more.
I'm clearly out of my mind.