In Reunited in the Snow (Doctors Under the Stars #2) by Amalie Berlin, Lia Monterrosa was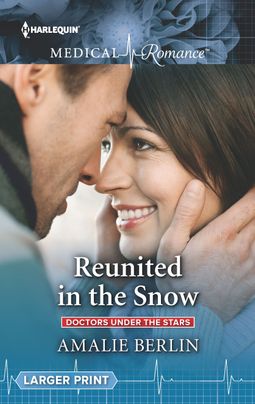 devastated when her fiancé left her at the altar. Now though, she's determined to find out why and it's one of her reasons for deciding to fly to Antarctica to work. However, she never realized how hard it would be to be around Weston MacIntyre again, especially when they have to work together day in and day out. Will Lia be able to forgive Weston for the past or will they go their separate ways again?
"But I guess you don't need to be warned about the danger of fire."
"Not really," she muttered. "Things I need to be warned about never come with a warning. Or I'm just really bad at picking up on hints."
So was he. Charlie had proven that. And she didn't need to know that. "Hints?"
"Do you really want to know?" she asked, pushing down the blankets to her lap so she could sit up straighter, but stayed tucked in bed.
He was suddenly sure he didn't want to know, but he said, anyway, "Tell me."
Having absolutely loved the first book of this series which is penned by the fabulous Robin Gianna, I was really looking forward to getting to read more about Lia and her failed relationship with Weston and I've got to say that this story does not disappoint. Since it's a second chance romance where emotions run high and these two discover that it isn't easy to turn off their feelings no matter how much Weston is determined to stay away from Lia for fear of hurting her like he hurt someone else he should have helped.
The way this story started was engrossing because Lia is determined to confront Weston since she's always wondered why he left when they were so much in love. Will Weston reveal the truth of why he ended their relationship? Will Lia be able to help Weston overcome his guilt in order for the pair to have a future together? Furthermore, I loved this couple's past history, their growing relationship as they find their way back to each other and the obstacles they face to be together because there's other stuff going on in Lia's life that's making things even more complicated than Weston being back in her life. Will everything work out for the best for her?
"I thought about this all night, and as far as I could come up with, I have only two options on how to handle this," he said. "I can repeat myself until you punch me in the junk, which is neither productive nor fun. For me. Might be fun for you, depending on how angry you are."
"Pretty angry."
He nodded. "Or I can explain why I do…stupid things."
As for the dialogue, it was intense due to the main characters back stories and their past history because Weston believes he had good reason to leave Lia. Is the reason he left a good reason? Will Lia accept the reason he left, especially when she believes he never really loved her to begin with? Since if he did love her, it wouldn't have been so easy to leave her. However, I loved how Weston proved her wrong, even if he does mess things up a little along the way to their second chance at forever.
With the main characters; I felt plenty of sympathy towards Lia since the heroine has always felt unloved and I could understand why she feels Weston didn't love her enough. I also liked the heroine's strength and her determination to confront Weston, even though it seems she falters when they first come face-to-face. Will she find the courage to say what's on her mind? While the hero, I found it hard not to sympathize with him too since he believes he let someone he loves down and he doesn't want to do the same with Lia, even if by deserting her he's already let her down. However, in saying that, I liked how determined he was to make things right and his fight to earn her forgiveness, even if he believes he doesn't deserve it.
Overall, Ms. Berlin has delivered a heartfelt and extremely engaging read in this book where the chemistry between this couple was as strong as ever; the romance was wonderful and had me loving this pair's determination to fight for their relationship, even though they stumble along the way and I feared the hero would hurt the heroine again; and the ending left me so happy for this couple as they are meant to be together. Really, Lia is so good for Weston. I would recommend Reunited in the Snow by Amalie Berlin, if you enjoy medical romances, second chance romances or books by authors Robin Gianna, Charlotte Hawkes, Scarlet Wilson and Amy Ruttan.
Book Info:

Publication: October 1st, 2019 | Harlequin Medical | Doctors Under the Stars #2
Left at the altar…reunited under the stars!
In this Doctors Under the Stars story, Lia Monterrosa arrives at the Antarctic science station as resident staff doctor… and comes face-to-face with her ex fiancé! Working in close confines means brooding Dr. Weston MacIntyre can't hide the painful reason he left Lia at the altar much longer. Lia knows she must guard her heart — especially as desire as bright as the Southern Lights still blazes between them!