Plus One by Brighton Walsh is a sweet and hot romance novella that will keep you cheering for the HEA till the very end.
Olivia is tired of her dating, every single one has been a jerk a looser and a user, they have no manners and lack of good conversation. But with 9 weddings within the next six months she cannot attend dateless.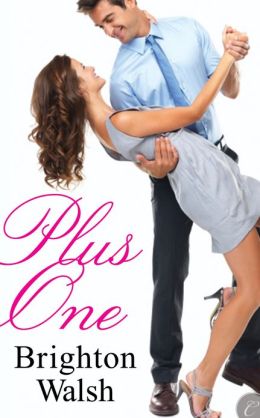 Ian has been in love with his sister's best friend since they were children, but Olivia has never hinted at any interest, his best choice was to move away and move on. But when he finds out from her that she needs a date for the weddings he offers to become her plus one. He thinks that he is over her, but when they are in close contact in very romantic setting he realizes that he never stopped loving her.
While Olivia does not want to ruin their friendship, she cannot help to be attracted to him. After attending many weddings together, when they have to stay overnight at a hotel sharing one room and one bed the tension will reach the limits and their relationship will change.
But Olivia does not want things to change too fast, she wants to go very slow in relationship terms. While Ian is tired of waiting, after two decades he has had enough, it's either all or nothing. Olivia will have to face the truth of their feelings and decide whether their love is something worth fighting for or if she is willing to lose not only their chance at love but also her friend forever.
If you want a sweet romance with a friends to lovers theme then you will like Plus One by Brighton Walsh.
Book Info
Publisher: Carina Press (May 6, 2013)
Olivia hates the singles scene, so when her best guy friend, Ian, offers to be her plus one to a series of weddings she has to attend, she agrees. Although she doesn't want to complicate their lifelong friendship, she can't pass up the chance to have a steady date without the dating drama. What she doesn't expect is to now find Ian so incredibly sexy.
When Ian sees his old friend Olivia dolled up for wedding #1, the boyhood crush he once nurtured transforms into smoldering attraction. It doesn't take long for their no-strings arrangement to turn physical. But as Olivia's desire to stay "just friends" becomes clear, Ian's feelings are deepening. In the time they have together, how will Ian convince Olivia that one plus one can make for a lifelong pair?
22,000 words