In Power Game (GhostWalkers #13) by Christine Feehan, When Ezekiel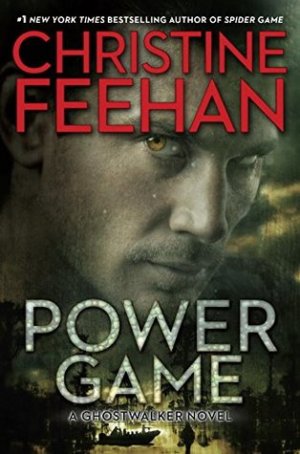 Fortunes trained his fellow GhostWalkers for a mission to extract hostages in Indonesia, he had no idea the danger they were up against. Or that along the way he would meet the woman who would alter his life forever. He never really saw himself finding love and figured he'd be a life long soldier, protecting his brothers and their squadron. But Bellisia opened Ezekiel's eyes to a much more positive, broader future. That is, if he can keep them all safe and convince her to give him a chance.
"There's no going back from this, Bellisia." His thumbs brushed at the tears in her eyes. "I want this perfectly clear between us. I gave myself to you. All of me… I just put my heart in your hands, baby. Don't crush it. I've never given it to another woman and I won't again."
Bellisia Adams might be a woman fully trained to run dangerous missions on her own, using the lethal abilities that Whitney enhanced her with, but she's always longed for a home and family of her own. And until she made her getaway and saw Ezekiel, Nonny, and the rest of the group, she never believed it could be real. Bellisia isn't sure if she can trust the GhostWalkers, as she's used to the cruel supersoldiers in the barracks where she was raised. But as she gets to know Ezekiel better, she realizes that love and security might just be within her reach if she's willing to try.
'He looked at her with love. She'd never seen that before, but it didn't matter, because she recognized the emotion. It was that clear.'
What a thrilling ride! Power Game was just one explosive event after another for the GhostWalker team. From finding a forever kind of love to defeating a longtime adversary to learning the true meaning of family, this book had something for everyone.
'She made him absolutely crazy. He'd never experienced the emotions she brought out in him. She was going to lead him on a terrible dance, but he didn't care. She was worth it.'
I am so not kidding when I say that this was probably the most action-packed, exciting installment I've read in the GhostWalker series so far. And even up until the very final pages, the hits just kept coming for Ezekiel, Bellisia, and the rest of the group. A lot of changes took place for the team this time around–some good and some not so good–so if you're a fan of the series already, you'll be in for a fun time. If you're new to it then you can probably read this as a standalone and will still understand the magnitude of what happened.
Ezekiel was just as wonderful a guy as I hoped he would be from the glimpses we got of him previously. I loved that he was all alpha male with a hard edge to his personality but that he truly did have a heart of gold. Especially when he was interacting with Bellisia, the triplets, and Nonny. He adored Nonny, as did everyone else of course, but in a way she was like a surrogate mother to Ezekiel and he treasured her for that kindness she showed him and his brothers, Malichai & Mordichai. He in turn shared that kind nature with his team's loved ones and in the wonderfully romantic gestures he showered on Bellisia. (Those lovely scenes nearly brought me to tears…)
I thought Christine Feehan managed to pair Ezekiel up with the perfect woman for him, who actually had some of the same qualities as Nonny. Bellisia was a fierce protector and when she loved, she loved with all of her heart. She was a trained operative so she could defend herself and others quite well. But I got such a kick out of how Bellisia could keep Ezekiel in his place, showing a little bit of attitude here and there. That made for some fun dialogue and some definite razzing from the rest of the guys. I also thought they made a great team and were both heroic in many of the events that took place. I enjoyed how tender and sweet Ezekiel and Bellisia ended up being as a couple and could have continued reading about them for another hundred pages. *sigh*
Things are only getting more interesting for the GhostWalkers and where Christine Feehan will take us from here is anyone's guess. I think fans will flip over Ezekiel and Bellisia's heartfelt romance as well as the major changes that took place throughout the story.
Book Info:

Publication: January 24th 2017 | Berkley | GhostWalkers #13
A mysterious woman with her own agenda rescues a captured GhostWalker soldier held by a secret enemy. Together they uncover a conspiracy that extends beyond the reaches of the US government and proves a deadly threat to national security…