The Chocolate Cure (Love at the Chocolate Shop #4) by Roxanne Snopek: I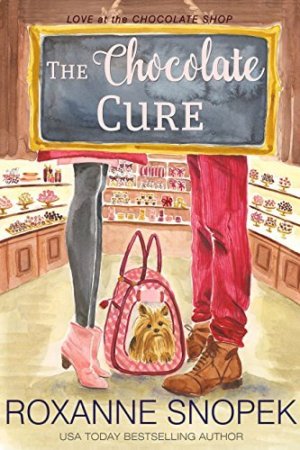 loved being taken back to Marietta, Montana in The Chocolate Cure by Roxanne Snopek! Maddie is still struggling into adulthood and independence, but she is determined to get there. A bar, some drinks and a public declaration of her New Years resolutions brings her both embarrassment and motivation. When her volunteer work at the hospital brings her to Mick, a bush pilot, despite his injuries, and attraction and connection is felt from the very start. Unable to return to his work in the near future, Maddie sees more and more of Mick… As she pushes him towards recovery, she is not only worried about her heart, but her job as a realtor. Mick might be the answer to both, but he's not staying, is he?
I enjoyed the honest characters Roxanne Snopek gives us in The Chocolate Cure. There are no hidden agendas, everything is out in the open. Whether due to small town life or because that's how Mick and Maddie are, it made me really like their characters. Maddie is a bit immature at times, but she loyal, honest, determined, and has a heart of gold which really shines through. Mick is anxious to get back to flying and work, but this won't happen for a while. As the attraction between them intensified I liked watching the bond between them grow. Maybe Maddie can make it all work out this time, her life and her job…but will Mick still be around? I couldn't wait to see how things ended up for them, because they both seemed set in where they are in life right now.
The Chocolate Cure is part of a series, but can be read as a stand alone. I really liked how characters from previous books are drawn into the plot at various times, but it is done in a way that if you haven't read the other books you won't feel like you're missing anything.
The Chocolate Cure is well paced with a great flow to it that kept me interested. I'd recommend The Chocolate Cure to any romance reader!
Book Info:

Published January 12th 2017 by Tule Publishing | Love at the Chocolate Shop #4
No more chocolate! No more meddling! No more men!
New Year's resolutions are great. Announcing them in a crowded bar, with a chocolate martini in her hand? Not Maddie Cash's finest moment. It's time this new realtor got serious about her life and this time, she means it.
But when hospital volunteering lands her at the bedside of bruised and battered Mick Meyer, who has no knowledge of Maddie's reputation – and no memory of the kiss he begged from her during that long, pain-filled night, her best-laid plans are put in jeopardy. It's not just his sweet tooth that's tempting her.
The hunky bush pilot with the concussion has an old family property to unload. Making this sale could be Maddie's professional salvation. But when Mick turns on the charm, she's in danger of forgetting all her best intentions… on chocolate… on meddling… and especially on men.