Pregnant by the CEO by HelenKay Dimon is the first romance in her Jameson Heirs series, about a group of estranged brothers and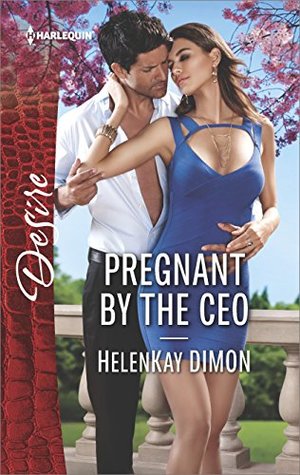 their family business.
Derrick Jameson has worked hard all his life to live up to his father's expectations, a man who is never satisfied. Now Derrick has been tasked with another mission in his quest to have more control of the company – do something about the man who is targeting him with propaganda. The young man is an ex-employee, a computer genius, who Derrick believes stole money from the company and was fired as a result. Derrick figures out a way to diffuse the situation and he's not averse to a little blackmail to help his plan along.
Ellie Gold can't believe what the gossip websites are saying about her and Derrick. They hardly know each other never mind the idea that they are dating! But Derrick soon convinces her to play the part of his fake fiancee as a way to help her brother out of the mess he's created. If it's seen that her brother's social media rants are the sign of a brother who disapproves of their relationship instead of a disgruntled ex-employee, it will go a long way to discrediting them and saving the company's reputation. But spending time together in close proximity heats up their fake relationship. Could it turn into a real love affair after all?
I really enjoyed this story! I will say that the title is a bit misleading though, as the pregnancy referred to in the title happens much farther along in the story than expected, at a point where they are almost at their happy ending anyway. So it's less of a surprise pregnancy trope story and more of a fake relationship one. (Though the pregnancy, when it does show up, comes with some more serious challenges).
Derrick and Ellie have a fiery relationship as she's not thrilled with being pulled into the orbit of a rich and arrogant man like him. But he's got a kinder heart up his sleeve than at first glance, and he is willing to give Ellie's brother a lot of leeway as they figure out what happened to the missing money. Ellie was let go from her previous job due to a lecherous boss who fired her before she could put in an official complaint against his sexual harassment. It's a timely plot and to his credit, Derrick believes Ellie from the start and is able to show his support for her when they confront the ex-boss in public. The couple share some sexy scenes together on the way to their happy ending. The banter is fun, and the relationship Derrick has with his brothers makes for some interesting scenes. It's an enjoyable read, and I'm looking forward to reading more about the Jameson family!
Book Info:

Publication: Jan 1, 2018 | Harlequin Desire | Jameson Heirs #1
How to keep control of the family business, bring his estranged siblings together and save his sullied reputation? Step one for billionaire businessman Derrick Jameson involves pretending to be engaged to his enemy's sister. He just has to keep his heart—and his secrets—to himself.
Out of work and protective of her brother, Ellie Gold reluctantly agrees to a job as Derrick's fake fiancée. But when their no-romance, no-touching agreement ends with her in love and expecting his baby, will what they have become the real thing?