In A Texas Christmas Homecoming (Whiskey River Christmas #3) by Nancy Robards Thompson, Elijah Lane and Rachel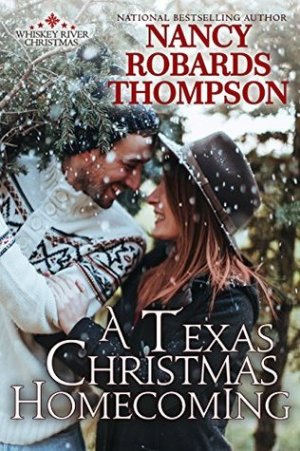 Wilson were high school sweethearts until Elijah was accused of a crime he didn't commit and he ended up leaving town. But now he's back in Whiskey River and determined to join forces with a good friend to develop an elite boutique winery. Will Elijah be able to convince Rachel to give them a second chance at happiness?
"I'm not the same person I was eleven years ago," he said.
Rachel opened her mouth to say something but stopped as if she'd thought better of it. "Nobody is the same, Eli. We all grow and change. We all evolve. Or at least we should."
"I'm sure you've changed too," he said. Her eyes flashed, but she didn't say anything. "That's why I hope we can cut each other some slack and…talk. That's all I'm asking, Rachel – for you to talk to me."
Have you ever read the blurb of a book and said to yourself 'Now this is a book I've got to read?' Well, that's how I felt about this book, and the second I started reading, I knew I was going to really enjoy this story. Really, the main characters entertain from start to finish with their back stories, the history between them and everything they go through on their journey to happy ever after; the dialogue was riveting, as Elijah and Rachel find their way back to each other; and the ending left me completely satisfied because these two so deserve their second chance at love, family and happiness.
The way this story started with the prologue and the first chapter sets the fast-pace of the book, as matchmaking seems to be on the minds of the secondary characters because Rachel and Elijah are meant to be, no matter what happened in the past and the obstacles they face to achieve happy ever after. Will Elijah's persistence pay off? However, it was from the moment the hero and heroine come face-to-face for the first time in this book that had me reading quickly, determined to discover whether the hero would be able to win the heroine over because he has things to say that Rachel needs to hear. Will Rachel hear Elijah out? Will she give him a chance to explain why he didn't stand and fight the reason why he left town?
As for the dialogue, it was intense due to the main characters back stories, as the hero has worked hard since what happened years ago that sent him running from Whiskey River to get to where he is and the heroine is finally starting to get her life in order after the death of her husband and isn't about to let anything distract her from doing what she believes is right for her daughter. Yet, there were some really good light-hearted moments that had me smiling, as the hero forms a nice bond with the heroine's daughter and the hero and heroine take a walk down memory lane that brings them closer together again. Moreover, the heroine is strong and brave with everything she's been through in her past and I liked how determined she is to be a good mother to her daughter. Not that she had a good example in her own mother, but she's determined to do better and make her daughter know how much she's loved. Yet, what I liked most of all about the heroine was that she gave Elijah another chance, because they need each other after all that they've been through; and I also liked her determination to work through things with her mother. Will she be able to forgive her mother for everything she did years ago?
"If I hadn't made the first move, we probably would've never gotten together. But once I got the ball rolling, I seem to remember you being a willing participant."
"Are you kidding me? All it took was you taking off your clothes and walking down into the river. Good God, almighty. I will never forget that night. I'm glad it was memorable."
"Oh, you have no idea the things I remember."
While the hero, he's worked hard to get to where he is in his life and I liked that he's determined to make things right with Rachel, especially considering that things aren't always what they seem and that both have missed out on years of happiness together. I also liked the decisions he made throughout this story when it came to the winery he's developing with a good friend and the determination he had to win the heroine over because he's never stopped loving her. Yet, what I liked most of all about the hero is the fact that he's overcome so much in his past to be the loyal and wonderful man he is now that is ready to prove to the heroine that they deserve a second chance at love and happiness.
Overall, Ms. Thompson has delivered a wonderful second chance romance where the chemistry was powerful; the romance absolutely delightful because it's palpable these two are meant to be; and the ending had me crying happy tears, as the hero does everything to prove to the heroine that she can count on him and that he isn't going anywhere this time, which is proven by what he asks Rachel's daughter right at the end. I also liked how much of a turn-around the heroine's mom made to mend their relationship. How could a mother treat their daughter the way she does in the beginning? I would recommend A Texas Christmas Homecoming, if you enjoy second chance romances or books by authors Megan Crane, Jane Porter, Jennifer Faye and Jamie Howard.

Book Info:

Publication: November 14th, 2017 | Tule Publishing | Whiskey River Christmas #3
Elijah Lane left Whiskey River under a cloud of suspicion about a car theft he didn't commit. After a stint in the army and years learning the wine industry, he's back, ready to develop an elite boutique winery. With backing from a Hollywood A-lister, Eli intends to prove that this boy from the wrong side of town has made it big. There's no one he wants to prove it to more than Rachel Wilson, the high school sweetheart who didn't believe in his innocence and married someone else practically the minute he left Whiskey River.
Busy running her specialty baking company, widowed Rachel has no interest in romance—even when her first love comes back to town. Though she feels guilty that she didn't stand behind the boy her mother persuaded her was certain to become a Barrels ne'er-do-well like the father who abandoned them, she has neither the time nor the energy to explore second chances.
Moved by the star-crossed couple's repressed passion, which is hotter than cinnamon candy and sweeter than sugar icing, a benevolent Christmas ghost, who lives for happy endings, might just be cooking up a delicious new chance for Rachel and Eli.