In Pregnant by the Desert King by Susan Stephens, Lucy Gillingham found out it's true that one chance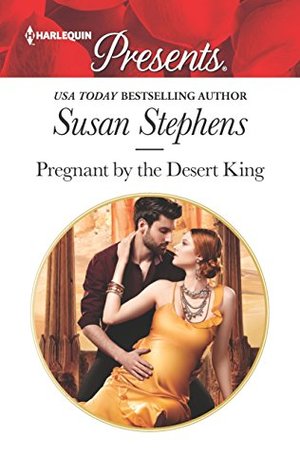 meeting can change your life forever when she ran into handsome Tadj while on a coffee break from work. One witty conversation later and she somehow has a date later that evening with him aboard a luxury yacht. Tadj is blown away by Lucy's spunk and her beauty. But he doesn't honestly know what he's hoping for after they have a magical, steamy night together. He certainly didn't expect to become a father–nor did Lucy think she'd get pregnant after one night. As they try to sort out the almost impossible differences between their lives, Lucy becomes smitten with Tadj, who she finds out is a King. And in the process falls in love with his home country as well. But will it be enough to make her give up her independence?
'She loved him unconditionally, which made her more vulnerable than she would like.'
Susan Stephens took two people who couldn't be more different, but who had a wonderful, instant connection, and threw them both into a tailspin when their worlds collided. But how entertaining it was for us readers.
'The bond between them was as tight as ever, and would remain so when their child was born, but when it came to the most basic human feelings they were both hopeless communicators.'
Kind of a Cinderella story meets a royal baby trope, Pregnant by the Desert King had some of the sharpest, most fun dialogue I've read in a Harlequin Presents in a while. Susan Stephens really played up the immediate chemistry between Lucy and Tadj. And that continued throughout the book. It was the disconnect between our lovebirds when it came to communication that had me pulling my hair out a few times. (lol) Although I of course enjoy a realistic conflict between main characters, Tadj and Lucy took it to the extreme; always skirting about the issues and saying they were going to talk about things–but then ending up having sexy times. Which were super creative, hot as all get-out, and in some amazingly exotic locales. *fans face*
Speaking of exotic locales, learning about Tadj's home in Qalala and his heritage was pretty cool and I thought it added a great backdrop for their romance. The issue that had Lucy running into his arms–after she also found out she was pregnant–was taken care of quickly and without much fanfare. But I thought it showed a more vulnerable side to Lucy, who was normally extremely independent. Something that was both a blessing and a curse to Tadj as he realized his feelings for her and tried to bring her into his world.
If you love to travel the world as you get lost in modern royal romances, then Pregnant by the Desert King might just be the book for you.
Book Info:

Publication: Published November 20th 2018 | Harlequin Presents |
Seduced as his secret Cinderella…
But will she be his queen?
Pregnant and alone, Lucy Gillingham is determined to protect her unborn child from her volatile family. Then Tadj, the enticing stranger she spent an unforgettable night with, returns with a royal revelation…Lucy is carrying the baby of a desert king! Tadj will secure his heir, but can Lucy accept his scandalous solution—that she share his royal bed?
Enjoy this scandalous royal baby romance!