Pregnant with his Majesty's Heir by Annie West is a beautiful love story, set in stunning locations with two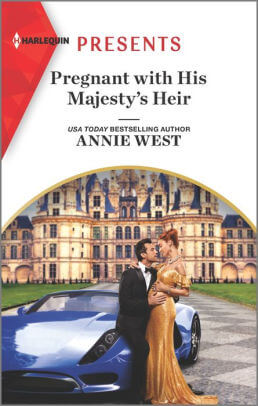 likeable characters and as per Annie's tagline – it really is an escape to romance.
Heartbreaking news and fate places Lucien and Aurelie in each other's path and the road travelled is a life changing one. Feeling it's only fair to let Lucien know about the life changing consequences of their wonderful night, Aurelie is shocked to discover Lucien is King Lucien of Vallort. To throw more drama in the mix, Aurelie's news arrives during Lucien's wedding rehearsal!
Pregnant with His Majesty's Heir explores unexpected pregnancy and family loyalties with a kind hearted Cinderella and a passionately loyal King who is trying to put everyone's happiness above his own. With the added mix of a fiancée and a conflicted heroine, fierce public scrutiny, instant and consuming attraction, Pregnant with His Majesty's Heir is another wonderful read by a favorite author of mine.
Annie West creates a stunning and highly enjoyable fairytale. I love the descriptive writing, the emotions created, the brilliant dialogue and clever story telling. For example, when Lucien describes to Aurelie how during their first meeting she displayed qualities of a Queen.
To add extra layers, I highly recommend subscribing to Annie's newsletters. Inspirations and photos for her stories are shared and even for this story a request to help choose the location names was sent out. Have you also seen the Harlequin Junkie Spotlight and Giveaway?

Book Info:

Publication: May 2021 | Harlequin Presents |
From USA TODAY bestselling author Annie West comes this irresistible royal pregnancy romance!
The father of her baby…
Is none other than the king!
After the death of his beloved uncle and cousin, reluctant royal Lucien is seeking escape. Which he finds with an irresistible waitress who stokes an uncontrollable fire within him…
Her one reckless night with an unforgettable stranger leaves Aurélie a mother-to-be. She's scandalized to discover her baby's father is the brand-new king of Vallort! And as much as ordinary Aurélie can barely imagine her place in this opulent kingdom, she has no choice. She must confess all to Lucien and await His Majesty's reaction…
From Harelquin Presents: Escape to exotic locations where passion knows no bounds.