In Pregnant with his Royal Twins by Louisa Heaton, since being injured in an acid attack, Freya MacFadden has done everything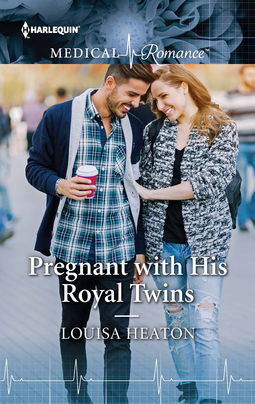 possible to keep her distance from men. However, there's something about Jameel 'Jamie' Al Bakhari that has her willing to give him a chance, especially when she discovers she's pregnant after spending an incredible night with him. Will Jameel be able to convince Freya to take a chance on him, or will the fact that he's royalty keep her from getting the happy ever after she deserves?
="You are beautiful."
She laughed at his response. "You're just saying that. Do you really think you would have asked a girl like me to marry you if I wasn't pregnant? With this face? I don't think so."
He stood in front of her. "Your face doesn't matter. You are a strong, beautiful woman."=
Ms. Heaton definitely knows how to entertain her readers, but it's the depth of emotion she bought to this story that had me turning the pages quickly, as the heroine has been through so much because of what her ex-boyfriend did and I loved the hero's determination to prove to Freya that she can trust a man again. The way this story started had me smiling immediately, as Freya can't believe what she discovers until she has absolutely proof. Will she like the answer she discovers? However, it was from the moment the hero and heroine come face-to-face for the first time after their incredible night together that had me really determined to discover whether the hero would be able to win the heroine over, which isn't easy because of what her ex did. Really, Freya's stubborn and determined to deny herself a future with a good man for fear of getting hurt again.
"If only you knew how much I've wanted to see you again."
Confused, she stared back. Felt the tears finally escape her eyes and trickle down her cheeks. "What?" What was he saying? What did he mean? Why wasn't he reacting to her face like everyone else did?
"You're unforgettable – do you know that?"
She swallowed hard, looking away, down at the steaming mug. "For all the wrong reasons."
As for the dialogue, it was intense due to what the heroine suffered at the hands of her ex that has her hiding from the world. Will she ever feel fully comfortable among people again? Will the hero be able to prove to Freya that she's beautiful? Moreover, the heroine is strong and brave by being able to move on as well as she has after what her ex did and I liked how determined she was to do her job no matter how uncomfortable people make her feel because of what she looks like. I also liked that although her family are so protective of her after everything she went through with her ex that they encouraged her relationship with the hero because she needs a man that would do anything for her.
While the hero, he's happy having the career he has and I could understand why he's so protective of the heroine because of her pregnancy and because of what she's been through, which was hard for him to learn. How could she possibly ever trust a man again? I also liked his take charge attitude when it came to helping the heroine, which is proven by everything he does for her, even though she doesn't want anything from him. What if he tries to control everything she does like her ex did? Will Freya realize the hero is nothing like her ex before it's too late? Yet, what I liked most about the hero was his determination to show the heroine how beautiful she is and how much she means to him.
"How do you feel?"
She smiled and laid her head against his shoulder. "Loved."
"I told you they would all love you."
She turned to face him, to look deeply into his eyes. "But to be loved this much…I never would have thought it was possible."
Overall, Ms. Heaton has delivered a really good read in this book where a few tears were spilt; the heroine has been through so much and so deserves the forever love she's found with Jamie; the chemistry between this couple was wonderful and had me hoping the heroine would take a chance on Jamie sooner rather than later; and the ending had me loving the decision the hero made because of his love for Freya. Yet, it was the epilogue that wrapped this story up superbly, because of the surprise the hero and heroine have and because Freya never knew love could be so good until she met the hero. I would recommend Pregnant with his Royal Twins by Louisa Heaton, if you enjoy the opposites attract trope or books by authors Amy Ruttan, Annie Claydon, Dianne Drake and Carol Marinelli.

Book Info:

Publication: January 1st, 2018 | Harlequin Medical |
New year, twin babies!
Midwife Freya MacFadden has stuck to night shifts since she was injured in an acid attack. But a hospital costume ball offers her the chance to hide her scars, and, lost in the moment, she seizes a passionate encounter with a handsome stranger. Leaving her pregnant…with his twins!
Desert prince Jameel Al Bakhari fought hard for his medical career, far from his kingdom of Majidar. And he'll fight for kind and courageous Freya and their babies too! But first Jamie must show her how beautiful she really is!