Pretending by Holly Bourne: A London summer sits as a crucial metaphor and ongoing subtextual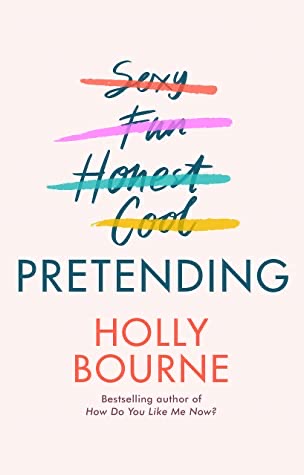 placemat to present a read that at no juncture pretends it's about tea and biscuits, or a chilly curl-up-on-the-couch with a blanky type Happily Ever After.
TRIGGER WARNING
April, a survivor of sexual violence, is a beautifully pained character, who is destined to hold space with the majority of women (and hopefully men), if this book is shared with partners, husbands, sons and brothers. Because, well, it's important. And surely there is nothing more important than discussing the inherent themes with the people we love in open and honest, and 'non-pretending ways', and what better way to make a statement through a seemingly fictional text, if there is a way to move beyond what we are now?
Survival and sexual violence sits firmly as the stunningly fat thematic intent, as we meet and learn to love April, a charity worker who often works on the front line of metering out help-line type advice to women who have been sexually assaulted, or indeed, men who have perpetrated sexual assault. But, quite naturally, April isn't whole herself. Ryan, her previous boyfriend, has destroyed her concept of self, including her ability to have functional relationships despite her ongoing desire to have them.
Throughout, via April's ongoing personal torment, a paradox of both wanting men and hating men, because of one man, is explored via 'Gretel', her alter-ego whose purpose is to exact revenge by allowing April to pretend to be someone she isn't, irrespective of what toll it plays on her path to healing. And so Joshua, who appears for all intents and purposes to be pretty much what he seems, a bloke who just kinda likes Gretel/April, is caught in the cross-fire.
Quite brutally and honestly, a blinding spotlight is shone on the ongoing inner-monologues women have to convince themselves that they aren't powerful, meaningful, or worthy of love. Throughout, finding solace and comfort in other women and their friendships becomes pivotal as the narrative explores the devastating and horrific rationale for April's revenge motives, and in many ways, she is saved and protected by the women in her life. Whilst at times it dabbled in extremes, it's clear that extremes are important to remind people to lift the corner of the rug we've swept things under, or even acknowledge we have a rug at all, (sometimes the one that sits proudly in our living room in fact.) But there is nothing pretty about this, and nor should there be. In a rainbow-less summertime, this book is a devastatingly raw and insightful reminder that survival doesn't have a scale or a timeframe beyond a far reaching and predicted storm.
Like Pandora's box, however, we aren't left without hope. More often than not, survival means believing that at some point we can breathe long and hard enough for the sky to open up and rain down on us. Undoubtedly, this is a challenging read that in many ways shouldn't need to be read, but, nay, it must, for without shedding the layers of pretence, there is simply no clear and healthy way forward.
Book Info:

Publication: 2nd April 2020 | Hoddor & Stoughton |
April is kind, pretty, and relatively normal – yet she can't seem to get past date five. Every time she thinks she's found someone to trust, they reveal themselves to be awful, leaving her heartbroken. And angry.
If only April could be more like Gretel.
Gretel is exactly what men want – she's a Regular Everyday Manic Pixie Dream Girl Next Door With No Problems.
The problem is, Gretel isn't real. And April is now claiming to be her.
As soon as April starts 'being' Gretel, dating becomes much more fun – especially once she reels in the unsuspecting Joshua.
Finally, April is the one in control, but can she control her own feelings? And as she and Joshua grow closer, how long will she be able to keep pretending?